Local Rock 'n' Roll Band Voted Off America's Got Talent
Aug 27, 2013 12:26PM ● By tina
The Robotix makes its way to first round of finals in America's Got Talent.
The Robotix - America's Got Talent [4 Images]
Click Any Image To Expand
Kid group The Robotix Almost Makes it All the Way
By Linden Wilson, Assistant Editor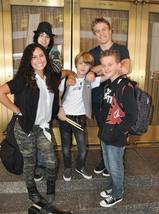 After a long journey that took them from San Antonio to Las Vegas to Los Angeles to New York City, The Robotix's stint on America's Got Talent came to an end Aug. 14 when the North Texas-based band was eliminated. Their 90-second performance of Black Sabbath's "Paranoid" on stage at Radio City Music Hall drew roaring applause from the crowd and a standing ovation, but it wasn't enough to keep them in the competition.
"They handled themselves like pros," band manager Kevin Gladden says of young members Brendan James, Jared Devino, Logan Gladden, Jon Casel, Angelina Baez and Yuto Miyazawa. "To see them go from playing live in front of crowds of 10 people to a crowd of 6,000 and a TV audience of 10 million was one of the proudest moments of my life. People have no idea how much goes into preparing for something like that. They owned the stage, and they had the time of their lives."
Although exhilarating, the AGT experience also presented The Robotix with its fair share of challenges.
"The most difficult thing was the uncertainty of whether we would have enough people to vote us through to the semifinals, given the fact that we hadn't been on TV much before," says Brendan James. "I know the crowd we played for enjoyed the act, but it is difficult to get that energy to go through to the TV audience."
The Robotix's persistence and hard work paid off, taking them to the first round of finals in New York City where they completed a solid week of round-the-clock preparation before taking the stage to perform what would be their last show in the competition. Yet despite elimination, the band was thrilled to get to perform at one of the country's most iconic music venues.
"Playing Radio City was a little nerve-wracking, but it was probably the most exciting thing I ever did," says Logan Gladden. "I felt like we did really well and accomplished our goal of showing America how we rock and what kids can do if they put their minds to it and practice."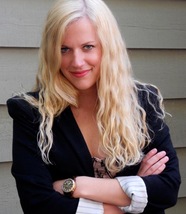 Linden Wilson, a San Antonio native, graduated from the University of Missouri's School of Journalism. Her work has appeared in San Antonio Magazine, Mpls.St.Paul Magazine, Steamboat Magazine and on MSN UK. She enjoys writing about lifestyle, culture and style, and sorry Dallas — she is a die-hard Spurs fan. Send Linden an email: linden@southlakestyle.com.