All In
Sep 03, 2013 06:04PM ● By tina
Bryan Campanello wins big at World Series of Poker.
Southlake's Poker Pro Bryan Campanello is the King of Cards
By Sean Chaffin
Thousands of players from around the world flock to the World Series of Poker each summer to try their hands at poker glory. This year's series featured 61 tournaments culminating in the $10,000 buy-in Main Event, the world championship of Texas Hold 'em, broadcast live on ESPN. The series of tournaments leading up to the championship feature their own massive fields and major payouts, each awarding the winner a coveted gold bracelet — the biggest trophy in poker. For 21-year-old Southlake native Bryan Campanello, these events at the Rio Hotel and Casino in Las Vegas proved a great gamble. The young cardsharp bested a field of 301 players to earn a bracelet, as well as $178,052.With several other recent top-tournament finishes, Bryan might be one of the hottest young players in the game.
"Winning a bracelet was a dream come true," he says. "It's something that most pokers only get to think about, much less accomplish, in their first summer in Las Vegas. I had a lot of friends on the rail who travel the WSOP Circuit with me. It was nice to have a support system out there and have them pushing me." Bryan won his bracelet playing Razz, an obscure game where players are dealt seven cards total (three down and four up). Players bet as the cards are dealt, hoping for the lowest hand with A-2-3-4-5 being the best. With little experience in the game, Bryan took advantage of online information and tips to learn more about it. His research paid off.
Poker Life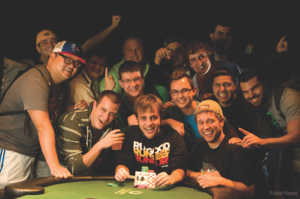 The road to victory is never easy in the WSOP. After feeling well the first two days, Bryan was exhausted by the third day, which lasted until 4 a.m.
"Poker is a mentally straining game, and after three 12-plus hour days, you are really tired," he says. "On days one and two though, I was fresh and learning a lot about the game."
When he was younger, Southlake's newfound poker star found his inspiration to take up the game watching the WSOP on TV. By the time he was in the seventh grade, Bryan asked his father, John, for a poker table to use for games with friends.
"I played with them a few times but didn't grow up playing cards, so I really didn't have much interest," John says of those early games. "Eventually, Bryan started playing online poker, and that's when he began to really get into the game. He is an avid reader and started reading all sorts of poker books, articles on various poker sites and blogs. Then during his winter break in 2011, he played in a live tournament at a WSOP Circuit event at a Choctaw Casino in Oklahoma." That first visit to the Choctaw proved to be more than auspicious: Bryan entered two tournaments, winning the first and placing runner-up in the second.
"After that, I remember him calling my wife and me to tell us he was at the final table of a large online tournament," John says. "He paid $24 to enter and won the event for about $24,000. My wife and I didn't know what to think of it at that point, but we made him deposit the winnings into a savings account."
More success followed over the next few years, including a win of $107,730 for a fourth-place finish at a WSOP Circuit event at the same Choctaw Casino in January of this year. Bryan added a win in a $365 buy-in circuit event in Blackhawk, Colo., in March of this year for $21,223. Friends and opponents describe Bryan as a relentless player: Players often have a difficult time deciphering what kind of hand he is holding — a distinct advantage in a game based on skill and outwitting your opponents.
"The other thing that makes him a good player is that he has a great memory," notes John, who eventually began playing after his son took up the game. "He is a trivia buff and easily remembers movie lines and television quotes in great detail. With poker, he can remember hand histories and how certain players play various hands. This skill provides a unique edge. I also think the skills he learned from all the years he spent in debate help him as well. The trait he has that really is a difference-maker is that he doesn't get nervous. In fact, I have never seen him nervous."
Yet, it was a comment about his behavior at the table that really sticks out in John's mind. At a recent tournament, a few fellow players offered some compliments about his son, calling him a nice young man who is very respectful to other players and tournament staff.
"It was a huge compliment and made me feel very proud," he says.
Southlake Card Shark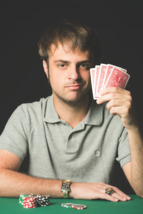 Growing up, Bryan loved his childhood in Southlake; he cherishes his hometown's close-knit sense of community. When they're all in town, Bryan and his high-school friends spend time at Southlake Town Square catching a movie or grabbing a beer at The Ginger Man. Away from the table, Bryan enjoys attending sporting events and playing trivia games. 
Much of his competitive spirit was developed in high school, competing for four years on the Carroll Dragon debate team. Travelling to events across the country, Bryan honed his skills, which earned him a scholarship to George Mason University in Washington, D.C., but he returned home after one year to focus on poker. The move allowed him to play at the WinStar Casino in Oklahoma and travel to more live tournaments, yet he still had time to continue his education. Bryan transferred to the University of North Texas where he is 30 hours away from a degree in political science. After his recent big win, he decided to take one semester off for a bit of travel and more poker. His first stop is Florida, then Toronto to play poker online (online poker is now illegal in most of the U.S.); after that, it's off to London and Paris for a few tournaments. The life of a poker champion can certainly have its rewards. With $380,000 in live-tournament winnings, Bryan can now afford to play the world's most prestigious events and has a bankroll for more cash games. Despite all his success, friends and family say he has remained grounded.
"Bryan is easygoing but an intense competitor," John says. "He is well-rounded, well-traveled and well-read. He is very bright, highly confident, and when he sets his mind to something, he usually exceeds at a high level. As with any parent, we only want the best for him, and we feel he has chosen a path that fits his personality and his natural strengths. I wouldn't be surprised if he excels at poker for many years, then changes focus to business or politics." Although poker players are notorious for going broke — dealing with huge cash fluctuations is normal for many poker pros — Bryan has no big plans for his winnings other than for more poker. He has received plenty of support from his family and plans to be smart with his money.
Reactions to Bryan's career on the poker circuit go one of two ways: Some people don't know much about poker and might have notions of the game being a bit shady; others have a fair understanding of the game and are excited someone they know is succeeding at it.
"Most people don't know it's more than a game of chance," John says. "It's a game that requires great skill, a tremendous amount of focus and very long, tedious hours. It's hard work that isn't easy on the mind or body — you have to earn it. My wife and I realize Bryan has chosen a unique career path with poker, and we fully support his efforts. We're very proud of how he has handled his early success because he hasn't changed his focus." And what's his current focus? Getting another big win, of course.
Sean Chaffin is a freelance writer in Rockwall, Texas. His new book, RAISING THE STAKES: True Tales of Gambling, Wagering and Poker Faces, is available as an eBook and in paperback at Amazon.com and BarnesandNoble.com. He is also editor of PokerTraditions.com, all about poker history, lore and people. If you have a story idea, email seanchaffin@sbcglobal.net. Follow him on Twitter @PokerTraditions.