Up, Up and Away
Sep 05, 2013 01:20PM ● By tina
Plano Balloon Festival Colors the Sky


Before planes, helicopters or space shuttles, man had one way to take to the sky: the hot-air balloon. More than 200 years ago, King Louis XIV gave his blessing to the first unmanned hot-air balloon flight. Today, hot-air balloons come in all shapes and sizes, and you'll be sure to see more than a few unusual flying objects at this year's Plano Balloon Festival.
Join thousands of spectators as a kaleidoscope of 50 hot-air balloons take to the sky, including the array of special-shape balloons, including Cosmos the Astronaut, Joelly the Little Bee, Betty Jean the Butterfly, the Old Lady and her Shoe and Pigasus the Flying Pig. Balloon launches are scheduled for Friday at 6:00pm, Saturday at 7:00 a.m. and 6:00 p.m., and Sunday at 7:00 a.m. and 6:00 p.m.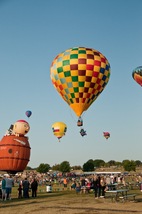 Don't just go for the dazzling views, though. The festival grounds, open 4 p.m. to 10 p.m. Friday, 6 a.m. to 10 p.m. Saturday, and 6 p.m. to 7 p.m. Sunday, feature attractions and events to please the whole family all day and night. For kids, the Fun Zone includes inflatable rides just their size, a rock wall and obstacle course as well as an arts and crafts activity area, music exploration with the Plano Symphony Orchestra and, of course, face-painting.
Little ones and their parents are sure to enjoy viewing more than 100 antique, classic and modified cars, trucks and motorcycles on display, Saturday from 10 a.m. to 4 p.m. Don't miss the RE/MAX skydive team performing at 5:30 p.m. on Saturday. And Friday and Saturday night, take in a fireworks show in the sky alongside a balloon glow at 8 p.m. Fleet-footed balloon enthusiasts should not miss the Saturday half-marathon, 5K and 1K runs, offering plenty of views to distract the road-weary from the occasional side-stitch.
Perhaps you've been lucky enough to spot a lone balloon on the Texas horizon early one Saturday morning, but the experience of watching a staggered balloon launch at the Plano Balloon Festival is not to be missed, and the additional attractions are sure to keep everybody entertained.