Coming Home
Sep 10, 2013 01:57PM ● By tina
The annual Homecoming parade returns to Southlake Town Square this fall. Photo courtesy of R.E.B. Photo.
School News by David J. Faltys Ed.D., Superintendent CISD

I love a parade. Okay, I borrowed that phrase from a famous song, but it's true. The idea of a parade makes me feel like a kid again. How could it not? To me, a parade through Southlake Town Square — families gathering alongside the road, eagerly anticipating the fire trucks, decorated floats and marching bands — is the ultimate definition of fun. It's exciting, and it paints a Norman Rockwell–type scene enhanced by community spirit. So does a carnival: What kid doesn't beg his or her parents to go to the carnival to play games, eat cotton candy and get his or her face painted? I envision small children walking hand-in-hand with their parents as they stroll from carnival booths to jump houses, all for a good cause.
The arrival of September in Southlake makes an exciting time for Carroll Dragons because it means the return of homecoming. According to the Merriam-Webster dictionary, homecoming is the "return of a group of people usually on a special occasion to a place formerly frequented or regarded as home, especially an annual celebration for alumni." Well, there you have it. Homecoming is a tradition of coming home, and I can think of no better description for what we have planned for Dragon fans and alumni the fourth week of September right here in our hometown.
Back by popular demand, we are thrilled to have the return of the Homecoming Parade to town square. Carroll Senior High School's student council will be hosting its annual Homecoming Carnival to kick off activities on Sept. 25 in Rustin Park. The parade will follow, featuring the Homecoming King and Queen candidates, floats from each of the elementary campuses, entries by student organizations in grades seven through 12, Campus Teachers of the Year and more.
The carnival will kick off the evening's celebration in town square from 4:30 to 6:30 p.m. Student groups and sponsors will man carnival booths providing fun games, face painting and other activities for the whole family. The parade will begin at 6:30 p.m. behind the parking lot of Barnes & Noble and will make its way through town square, past the Apple store and Starbucks to the gazebo area in Rustin Park.
School spirit will rule the day as Dragon fans and families come out to support the student council fundraising efforts. Students, parents and the community are invited to line the streets of town square to watch the parade. Immediately afterward, the pep rally will begin on the steps of Southlake Town Hall, where float winners and the winners of the Homecoming Court will be announced. The pep rally will involve the Dragon football team, band, cheerleaders, Emerald Belles and crew.
This year's homecoming theme is Under the Sea — all things ocean will be featured as Dragons gather to get ready for the 2013 Homecoming Game, which will kick off at 7:30 p.m. on Sept. 27 at Dragon Stadium against the Keller-Central Chargers. This game is typically a sell-out, so be sure to mark your calendars and plan ahead to be part of the Wednesday carnival, parade and pep rally celebrations.
I'm feeling like a kid again just thinking about it. I cannot wait to see all the Carroll alumni and our fans gather to support the Dragons. After all, I love a parade!
Photo courtesy of R.E.B. Photo.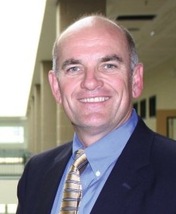 Dr. David Faltys serves as Superintendent of Carroll Independent School District, the largest 5A Exemplary district in the state of Texas.  He was named by the 2010 Region XI Superintendent of the Year after being nominated for the award by his local School Board.