Cade Foster: Four Year Phenom
Sep 11, 2013 11:11AM ● By Mike
Before heading off to the University of Alabama, Cade Foster ('09) was a 4 year starter at Kicker and MLB for the Dragons
Originally Printed in Dragon Pride IV - Fall 2009
When speaking about Dragon football the drive to succeed runs just as deep as the school's talent pool. On a team of such storied success, working your way through the depth charts and onto the starting lineup is quite an impressive accomplishment. Even more impressive, a career as a four year starter and at two distinctly different positions takes immense talent, dedication and a lot of hard work. Dragon kicker and middle linebacker Cade Foster is a very rare blend of them all and 2009 is his year to shine.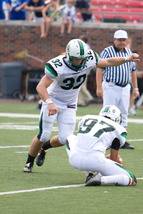 Hard to believe, but standing tall at 6'-2" and 220 pounds, Cade Foster's expertise, is in kicking. With 276 total points through his junior year, he will go down as the highest scoring kicker in the school's history if not the state's.  Not bad, considering the Dragon lineage includes current NFL kickers Kris Brown of the Houston Texans and Garret Hartley of the New Orleans Saints.
Harder to believe- Cade never kicked a football until his family; father Dan, mother Kelly and sister Riley, moved to Southlake when he was just in the 8th grade.
Dan Foster, an Orthopedic surgeon settled his practice in nearby Bedford after marrying his wife Kelly, a child life director at a Dayton, Ohio hospital. Upon relocating to Texas, they made their home in Fort Worth for 23 years during which time their children attended private school.  Riley, their oldest, excelled at field hockey while attending Trinity Valley and accepted a scholarship to play at the University of North Carolina where she has been a four year starter. As a sophomore, she was instrumental in the Tarheel's national championship season of 2007.
Cade, focused on soccer and "He played baseball too," says Dan, "but he was too easily bored and preferred the constant motion of the soccer field." He started playing soccer at the age of four and really enjoyed it. By the age of ten he gave up baseball completely so he could play in select soccer leagues throughout the year. Cade was never the fastest player on his teams but he learned to use his size to his advantage.
Cade's desire to play football began to grow steadily.  He wanted to play the game in which his Grandfather Herman- an offensive lineman, and his father- a defensive back, enjoyed much success.  Both won a state championship, 1946 and 1970 respectively, and then went on to play in the collegiate ranks. The desire became so strong that the family packed up their home in Fort Worth and moved into Southlake. Besides the stellar CISD programs, the proximity to DFW would allow the family an easier commute to Riley's games at UNC.
On the first day of football practice in 8th grade (2005) he and some friends were fooling around on the field at Carroll Middle School when Cade attempted his first field goal. Emulating the stance he had seen so often on television, he took and made his very first attempt. Then another and another until he caught the eye of the CMS coach Aaron Lineweaver who said the decision to make him CMS' starting kicker that year was a, "no brainer." Even then, it was obvious his soccer experience at the fullback position fit him well as Cade went on to make 46 of 48 PATs (point after TDs). It was obvious, especially to the coaching staff that Cade already was a varsity caliber talent. In 2006 he took over varsity kicking duties as a freshman, was promptly named 1st team all district and extended the family's state championship streak to three generations with a 43- 29 victory over Austin Westlake.
In a way, Cade maintains most of the responsibilities he had as a soccer player. He still booms the ball with 50 yard range and he still protects the goal line.  Only difference is he does so from two distinctly different positions. Cade admits, "Having to change mental focus is the hardest part," of playing on both sides of the ball. As the Dragon's leading tackler last year (76) Cade must quickly read and react to the opposition's schemes and always be ready to make the big hit. On the contrary, kicking requires a slower focus and flawless execution of his regimen. Along with snapper J.J. Drusher and holder Derek Rutten they work continuously in the off-season to, "get the timing down,."
Working with his "kicking team" is just a small part of this Dragon's summer workout regimen. Dan Foster says of his son, "From his afternoon workouts to stretching and even his sleep habits, Cade is incredibly dedicated and disciplined. All Southlake kids know what it takes and they all push each other."
The making of a Dragon: Cade's Summer Vacation
Dragons definitely know what it takes to be the best. Cade has to bring that same level of preparation into all of his specific training to be the best kicker and middle linebacker he can be. Giving that extra effort means he keeps going when others are calling it quits. This effort was not lost on Nick Saban, the head coach at the University of Alabama. In February, Saban personally offered Cade a full scholarship to be Alabama's kicker of the future.  After visiting the campus in March and exploring all of the facilities with his family they knew it was, "a perfect fit." Cade committed to the University of Alabama on April 27th. Supportive mom Kelly says, "Alabama is close to home and still has a Texas feel." On verbally accepting the scholarship Cade says, "It will be a great place to play, they have an awesome fan base and I'll immediately have a chance to compete for a starting role."
Even with a solid verbal agreement to attend the University of Alabama, Cade has not taken his summer vacation lightly. Instead of enjoying the beach and fishing in Playa del Carmen, a family favorite vacation destination, Cade traveled to California to attend the prestigious Chris Sailer Top 12 Kicking Camp. It was there that he spent time as one of a dozen of the nation's premiere high school kickers. They received the camp's top tier coaching that boasts alumni that represents a who's who of professional kickers. Chris Sailer widely respected as one of the top kicking and punting coaches in the world says, "Cade is one of the most talented kickers that we have seen in years. He has everything you look for in a potential collegiate star. He's a tremendous young man with great work ethic, mental toughness, and attitude. He has more potential than anyone in the nation."
While he was home, he hit the gym- early and often. Attending the daily Performance Course with his teammates he worked diligently on his speed, agility and conditioning. The results, a 4.6 sec 40 yard dash and a defensive back like 34.5 inch vertical leap (thanks Dad). After his morning workouts he would return home for some much deserved rest. Maybe he'd read a book from the Harry Potter series, catch some television or play some sand volleyball with friends.  He would definitely take in a big breakfast, some facebooking and a power nap.
Later each day, Cade would take in the aforementioned kicking drills before he would head to the weight room for what is affectionately known as "Second Lift". Benching 370 pounds and squatting 525 pounds, Cade's abilities in the weight room are similar to or exceed those of just about every player on the team. His work ethic was proven each and every day as he lifted to exhaustion.
Not just an all-star example of braun, Cade also has the brains to make the grade in the classroom. In addition to stepping up his physical preparation this past summer, he also found time for academics. Cade is a member of National Honor Society and takes advanced placement courses. He enjoys learning about history and dabbling in art and with a 96 GPA he's established a stellar reputation in the classroom.
On the advice of past Dragon running back and current Texas Longhorn, Tre Newton, Cade took two classes at the Target Learning Center this summer in preparation to complete his high school diploma early.  With English and Economics now under his belt, he will be able to graduate early and enroll at Alabama in January 2010. Then he will begin preparing for spring football with his new Crimson Tide teammates. He hasn't decided on a major yet, but he is interested in Geology or possibly following his parent's footsteps in to the medical field.
For those who didn't know of Cade Foster- consider yourselves caught up.
Those who do know him best are quite impressed. "I expect big things from Cade Foster," says Chris Sailer, "He should have a great senior season." Head Coach Hal Wasson says, "Cade is a great young man. He is a role model and leader with great intensity and passion for the game. I can't say enough good things about him. He is already a success."