Ron Roland's Art Displays a Love Affair with Nature and Color
Sep 16, 2013 11:21AM ● By tina
Contemporary landscape artist Ron Roland announced as featured artist of Cottonwood Art Festival in Richardson.
Roland Named Featured Artist for Richardson's Cottonwood Art Festival 
Submitted by Jo Trizila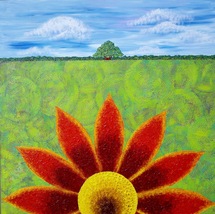 One look at Ron Roland's art and it becomes obvious that he likes trees and color -- perfectly shaped trees and beautiful, rich color. Roland has been named the featured artist for the fall edition of Richardson's Cottonwood Art Festival, to be held Oct. 5-6, in Richardson's Cottonwood Park. A park full of trees is an apt setting to display his work.
"I was tickled -- totally shocked when I found out. I have really good customers at Cottonwood," Roland says. "I can't wait. I have a whole bunch of new stuff, a new body of work. I'm calling it Flower Series -- it's a blending of the old with the new. Serri Ayers runs a really good show, and I have several good friends who show there too."
The Florida artist describes his work as contemporary landscapes in acrylic impasto style on birch panels, noting that he has a "love affair with color and movement…I want my paintings to evoke participation. I want the viewer to be plunged into the scene by the simple act of viewing."
"I paint larger-than-life treescapes using a bold palette with high contrast. My style uses an altered form of impasto painting. That is, I use a brush -- and not a palette knife -- to build up the paint to create texture. 
His goal is "to show our sometimes conflicted and ambivalent love affair with nature. The trees are unnatural, topiary like, but they tower over the little houses in gigantic scale to show their perseverance."
The "old" Roland referred to is his tree series. "The tree landscape series was started shortly after our Hurricane Ivan experience in 2004 in Pensacola. We were without power for about three weeks. My wife, Suzanne, is also an artist who has shown at Cottonwood. I would sit outside my studio, listening to the chainsaws and worrying about my own trees. I decided to do an Ode to Trees, using this idea I had for impasto. Trees overpower you in a storm, downing power lines and causing other damage, but a lot still stand tall."
"The treescapes have taken on a life and world of their own. I began adding the little red-roofed houses after a road trip through the Blue Ridge Mountains and Shenandoah Valley in 2006. They completed the scope I was hoping to show with my manicured giant trees. The trees are both majestic and dreamlike…and at the same time out of human control."
Roland started out at LSU as a civil engineering major for his father, but "my love for art won out," he explains. "Growing up in New Orleans, where my father was a construction worker, his main experience with artists were the people doing caricatures on the street or painting on walls. He was worried about me making a living."
He trained at New Orleans' McCrady School of Art in the late 1960s. His early art career included designing rock concert posters for The Warehouse and layouts for the Sears catalog. He and several colleagues started Prime Graphics, which eventually became Sunshine Graphics. He ran the business for 15 years and collected numerous graphic design awards, and also served as Director of the New Orleans Graphic Design Association. His work can be seen at shows throughout the Southeast and beyond.  For more information, visit Ron Roland Art.


About Richardson's Cottonwood Art Festival
Richardson's bi-annual Cottonwood Art Festival, now in its 44th year, is a juried show. Jurors have selected more than 240 of the nation's top visual artists from 1,400 submissions to exhibit their museum-quality work at the festival. The artists compete in 14 categories: 2D Mixed Media, 3D Mixed Media, Ceramics, Digital, Drawings/Pastels, Fiber, Glass, Jewelry, Leather, Metalwork, Painting, Photography, Sculpture and Wood.
The festival is Saturday, Oct. 5, 10 a.m. to 7 p.m., and Sunday, Oct. 6, 10 a.m. to 6 p.m. Cottonwood Park is located at 1321 W. Belt Line Rd., one block east of Coit Road in Richardson, TX. Parking and admission are free. The artists' works are available for purchase; as are food and beverages.
Children have their own escape -- to ArtStop, Cottonwood's hands-on, interactive children's area offering arts, crafts and activities for children of all ages. Although admission to the festival is free, some ArtStop activities require a small fee. This year's newest activity is Park Art -- kids will repurpose slices of fallen tree limbs from the park, painting them to use as drink coasters.
Cottonwood is more than just the art. The festival also features top local bands performing the best in rock, country, jazz, blues, swing and folk, including headliner Prophets and Outlaws on Saturday evening. Check out the courtyard, sit in the shade by the lake, relax and enjoy the music. Food and spirits are also available in the courtyard.
Whether shopping for art, listening to music, enjoying the outdoors, or making art of your own -- Cottonwood has something for everyone. For more information, visit Cottonwood Art Festival.