Popular Oktoberfest Features Family Entertainment and More
Sep 17, 2013 08:37AM ● By tina
One of the most popular Oktoberfest festivals in DFW also features the beloved wiener dog race. Photo courtesy of Tim Hill Photography.
Oktoberfest Southlake - Photos Courtesy of Tim Hill [8 Images]
Click Any Image To Expand
Bratwurst, Wiener Dog Races and Live Entertainment Highlight Three Day Festival


Submitted by Tracy Southers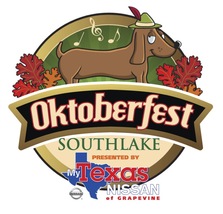 One of the area's largest Oktoberfest celebrations is gearing up for its 12th year during October 4-6 at Southlake Town Square. Highlighting this year's German-inspired festival are the wildly popular wiener dog races, live entertainment all weekend, and bratwurst and beer will be served in the
Die Festalle tent. Presented by the Southlake Chamber of Commerce and Texas Nissan of Grapevine, approximately 75,000 people are expected to attend the three-day event. Admission and parking are free.    
As one of the most popular Oktoberfest celebrations in Dallas-Fort Worth, Southlake Oktoberfest is a fun family event with activities for both adults and children:
Approximately 100 arts and crafts exhibitors selling handmade products.
Food vendors serving both German and American fare.
An active "Sports Zone" featuring a 9x16 foot television screen airing college and NFL games.
Children's area with games, train rides, bounce houses and rock climbing wall.
Street performers including magician, juggler, clown, flag twirler and stilt walker.
Die Festalle (festival) tent with German food, beer and wine, and live entertainment.
More than 180 dogs participated in the wiener dog races last year, which will take place Saturday, October 5, beginning with the costume parade at 9:45 a.m. and races start at 10:00 a.m. Registration can be done online or onsite starting at 8:30 a.m.
Swiss alpine horns will kick-off the festivities Friday at 5:00 p.m. on the steps of Southlake Town Hall. Live entertainment will take place throughout the weekend on two stages, including both local performers and regional bands:
Friday  ̶  Micah Blalock,  Big Wheel and A Hard Night's Day

Saturday  ̶  Grammy award-winning Brave Combo, Southlake Community Band, Julie Elias, Guns 4 Roses, Lone Star Ramblers and High Definition

Sunday  ̶  Maylee Thomas, Event Horizon,

Rob Holbert Afro-American Jazz and Alpine Village Band
New this year is "Battle of the Bands" presented by School of Rock in Southlake. Six bands, comprised of School of Rock student musicians, will perform 15 minute sets beginning at 2:00 p.m. Saturday on the Festival Hall Stage (next to Tyler's). The audience will vote for its favorite via a Twitter hash tag and the winning band will be announced that evening.
Southlake Oktoberfest is free admission to the public. Hours of operation are Friday 5:00 p.m. to 11:00 p.m., Saturday 10:00 a.m. to 11:00 p.m., and Sunday 12:00 p.m. to 5:00 p.m. For additional information regarding Oktoberfest, contact the Southlake Chamber of Commerce at 817-481-8200 or visit
Oktoberfest Southlake
.
Photos courtesy of
Tim Hill Photography
.