Trophy Club to Host Wounded Warrior Event
Oct 04, 2013 11:20AM ● By tina
3rd Annual Patriotic Charity Event at Trophy Club Country Club 
Submitted by Bobbie Heller
Trophy Club Salutes Wounded Warriors is proud to be hosting its 3rd annual event the weekend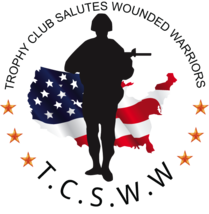 of October 4 - 5 at Trophy Club Country Club.  This event will benefit the Wounded Warrior Project and Texas Sentinels Foundation.  The weekend includes a VIP banquet and silent auction on Friday night, and  a 5k run and a golf tournament on Saturday. Last year  $130,000 was raised and donated to the Wounded Warrior Project!  
The Wounded Warrior Project's Mission is to honor and empower wounded warriors by raising awareness and enlisting the public's aid for the needs of injured service members; helping injured servicemen and women to aid and assist each other; providing unique, direct programs and services to meet their needs.
The Texas Sentinels mission is to provide life-changing opportunities for men and women of the U.S. Armed Forces who have recently suffered severe injuries and now need the support of grateful communities to realize their dreams by providing debt-free housing; uniting local communities; counseling & financial stewardship and providing long lasting mentorship.
Please visit Trophy Club Salutes Wounded Warriors for more information about the event and donation & sponsorship opportunities. TCSWW in an IRS approved 501(c)(3) charity.
Remember, Freedom is not free, it comes at great personal, lifelong sacrifices by some of our nation's young people. Their injuries last a lifetime!