All Hands on Deck
Oct 08, 2013 04:08PM ● By tina
Five starters return to a retooled, yet ever potent offensive force. Photos courtesy of Rex Teter Photography.
Head Coach Hal Wasson and Offensive Coordinator Clayton George know a thing or two about reloading. After a year in which three-year starter Kenny Hill guided the team to a District 4-5A leading 50.7 points per game, the Dragons return five starters to a retooled, yet ever potent Southlake-Carroll offensive force. Although the Dragon team has had to make significant adjustments after losing its star quarterback, leading receiver and four offensive linemen, the fast-paced, up-tempo offense returns some key players from last year's squad.
It will be tough to replace his leadership with 4,700 total yards and 60 touchdowns last season, but with Kenny Hill now at Texas A&M, the Dragons have found his successor in athletic junior Ryan Agnew. After several strong performances in reserve duty last season, Agnew has already seen a fair amount of game action at the 5A level. The 6'0" gunslinger, who clocked in at a blazing 4.5-second 40-yard dash during summer workouts, has the speed of a wide receiver. He provided the team with a steady hand and some quick feet last year on his way to over 1,000 yards and 17 total touchdowns.
After completing 71 percent of passes (43–60) as a sophomore on a team that went deep into the playoffs, Agnew is no stranger to the big stage. In fact, he has started his tenure as Dragon starting quarterback rather nicely, leading the summer's 7 on 7 team to winning the Adidas State Tournament Championship.
Complementing the young quarterback this season is a very talented and experienced group of wide receivers. With one of the better receiving tandems of the Wasson era, the Dragons are filled with depth for a versatile and efficient offensive attack. The team returns three of its top four pass catchers in seniors Ryan Weigel, Luke Timian and Keaton Duhon, who will lead an experienced group of receivers. Senior Joe Heineman and junior Parker Fentriss look to step up and add even more production to a receiver position that saw nearly 2,500 yards and 25 touchdowns total last year.
Though they are known for a potent air attack, the Dragons are especially pleased to return a seasoned veteran rusher in senior A.J. Ezzard. In Ezzard, the Dragons have their first three-year starter at running back since multipurpose phenom Tre Newton played for the team. Both powerful and elusive, Ezzard rushed for 6.6 yards per carry as a junior. Coming off his best season to date, he will force opposing defenses to stay in the box and cover the run. Not necessarily known as a receiver, Ezzard did show versatility in the backfield with 16 receptions for 132 yards last season. As Carroll's top returning playmaker, he will provide a lot of balance to a young Southlake offensive attack.
When it comes to high school football, graduation routinely leads to a loss of experience. This year, the Dragons' offensive will be challenged by lack of experience, returning only one starter from a year ago. A rather large 6'3", 290-pound field general at left tackle, Evan Brown will play an important role as team captain and will form the foundation of an otherwise untested group of first-year starters. Alongside the SMU-commit senior, left guard Ian Moss, senior center Landry Williams, junior right guard Grant Stewart and senior right tackle Jack Proskovec will provide protection and plenty of holes for a Dragon offense looking to match its production from a season ago. A balanced and well-coached Hal Wasson system will be on display as the Dragons are expected to once again dominate 4-5A District play. 
The Offense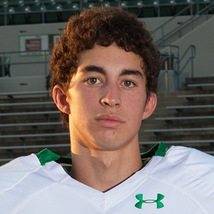 #7 Quarterback
Ryan Agnew
Junior
First-year starter Ryan Agnew is the latest in a long line of Dragon dual-threat quarterbacks. A Southlake Carroll legacy with three older brothers who started for the Dragons, Agnew compiled 1,071 yards of offensive gain and 14 touchdowns his sophomore year, giving fans glimpses of what looks like a bright future.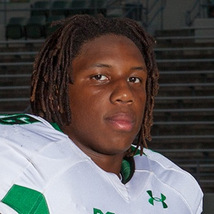 #26 Running Back
A.J. Ezzard
Senior
A three-year starter, senior running back A.J. Ezzard looks to build on a season in which he broke the 1,000-yard barrier while scoring 15 touchdowns. A returning first team all-district performer, Ezzard is described by his coaches as a violent runner with the dynamic ability to break away in open field.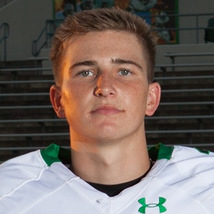 #2 Wide Receiver
Keaton Duhon
Senior
As a junior, Keaton Duhon was one of the team's more reliable receivers, finishing fourth in receiving yards. He ended 2012 with 21 catches for 335 yards and two touchdowns and is ready to have a more expanded role this season. Duhon shared MVP honors with quarterback Ryan Agnew at this past summer's Adidas 7 on 7 state tournament.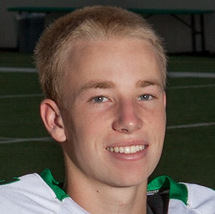 #3 Wide Receiver
Chris Hogan
Senior
A tough receiver with good  hands and speed, Chris Hogan has emerged as a top target in his senior year.  Stepping up in the early part of the season, he caught five passes for 38 yards in week two versus Midland Lee.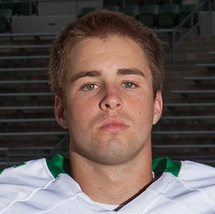 #5 Wide Receiver
Ryan Weigel
Senior
Returning to the Dragons as the leading receiver from last year's area championship team, Ryan Weigel looks to improve on a tremendous year in which he caught 48 balls for 887 yards and six touchdowns. The quick-footed Weigel used his sub 4.4-second, 40-yard speed to stretch opposing defenses, averaging a staggering 18 yards per catch last season.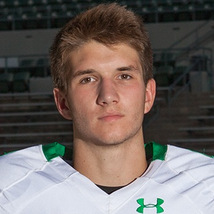 #9 Wide Receiver
Luke Timian
Senior
An experienced receiver and senior captain, Luke Timian returns to the Dragons' core of receivers after a strong junior season in which he caught 39 balls for 721 yards and seven touchdowns. The first team all-district performer is hailed by his coaches as the team's best route runner — a skill he uses to open up defenses and create mismatches.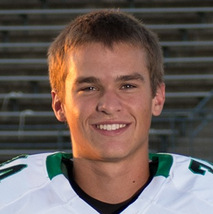 #34 Kicker
Drew Brown
Senior
One of the more consistent kickers in Carroll history, Drew Brown returns for his senior season after nailing nine out of 10 kicks last season, while totaling 124 points. A Nebraska commit like his older brother, Houston Texans kicker Kris Brown, Brown's strong leg and nerves of steel will be vital as the Dragons continue towards the postseason.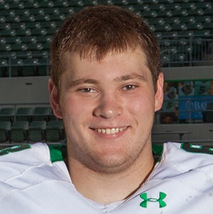 #63 Left Tackle
Evan Brown
Senior
A mammoth 6'3", 290-pound left tackle, the SMU commit is the lone returning starter from last year's team. A first team all-district performer last season, Brown, now a captain, looks to anchor a new set of offensive linemen providing protection and time for Ryan Agnew and plenty of running lanes for A.J. Ezzard.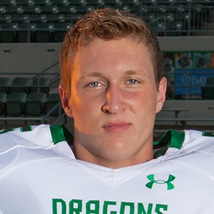 #55 Left Guard
Ian Moss
Senior
Ian Moss steps into the starting role, replacing Holden Sheehan at left guard. With good size and quickness, he excels at both run blocking and pass protection.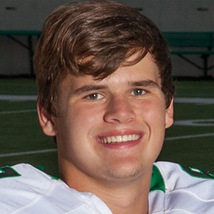 #60 Center
Landry Williams
Senior
A solid contributor on the offensive line rotation as a junior, Landry Williams now steps into the starting role as a senior. He will put his pass protection technique, footwork and size to good use in the middle of every play.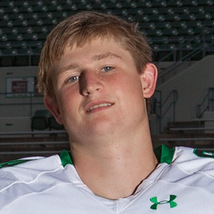 #64 Right Guard
Grant Stewart
Junior
Earning a roster spot with toughness and determination, Grant Stewart, the youngest member of the offensive line's front five, steps into the starting role vacated by former team captain Alec Deutsch.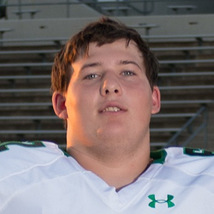 #62 Right Tackle
Jack Proskovec
Senior
Having gained much experience as a rotation player in 2012, Jack Proskovec takes on a starting role for his senior season. Expect his energy and work ethic to provide a boost to an already deep line.
Photos courtesy of Rex Teter Photography.