In Search of the Perfect Pint
Oct 16, 2013 09:35AM ● By Mike
Grapevine resident entrepreneur Gary Humble is the heart and soul behind upstart Grapevine Craft Brewery.
By Linden Wilson
About a year and a half ago, entrepreneur Gary Humble stood in the garage of his Grapevine home on a Saturday morning brewing brown ale like he had done for nearly two years. He'd long been searching for the perfect business opportunity — even considering a cupcake shop — when suddenly the thought struck him: Why not open a brewery in the heart of historic Grapevine? It might have seemed like a stretch back then. But now, Humble's Grapevine Craft Brewery is launching with some of the tastiest Texas suds north of Shiner, and he couldn't have done it without the support of the Grapevine community. 
Humble beginnings
A native Louisianan and self-professed Cajun boy, Gary Humble and his wife, Andrea, lived in eight states during their first 10 years of marriage before settling in Grapevine. After trying for eight years to have children, they finally welcomed both of their little boys at Baylor Regional Medical Center at Grapevine — Grant in October 2011 and Evan in March of this year.
"We had our kids here, then bought a house here, so Grapevine just became home," Humble says of the charming North Texas suburb he's lived in for the past five years, during which he spent time serving as a pastor at Southlake's Gateway Church. Yet once he decided to turn his passion into a business, Humble realized his role in the community was about to change drastically — and that more and more people would soon know his name.
The craft beer movement has been going strong for several years, with Americans opting to drink uniquely flavorful local brews rather than big brands like Coors and Budweiser. In late 2011, North Texas had only three microbreweries: the McKinney-based Franconia, Fort Worth's Rahr & Sons and Deep Ellum, located near downtown Dallas. The next year, Revolver Brewing opened in Granbury, and Lakewood Brewing popped up in Garland, but there was still nothing in the Mid-Cities. Humble knew his experience as a home brewer combined with his passion as an entrepreneur — and the fact that no brewery yet existed between Dallas and Fort Worth — made for the perfect recipe for a successful microbrewery business.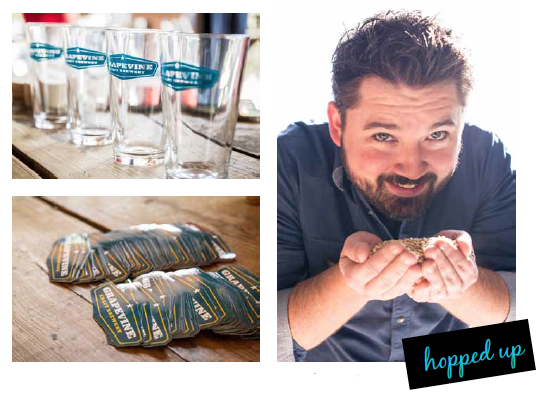 Generating buzz
In January of this year, the Grapevine Craft Brewery proposal was unanimously approved by the town's city council, and word quickly spread that Grapevine would soon be home to something other than wineries.
"I went in to that meeting ready to answer difficult questions, like why I would want a brewery in a town that's all about wine," Humble says. "I kind of expected some push-back, but there was none. They absolutely loved the idea, loved our brand and thought we really nailed the feel and the culture of Grapevine."
GCB's branding stretches across its website, which Humble created using prior web development experience, as well as its logo design — T-shirts, beer glasses and more were developed by Grapevine designers, Buzzbomb Creative. The two-man operation with experience in PR business development and graphic design helped elevate the brewery's brand to what it currently is — a rustic yet clean look that immediately evokes the thought of sipping a cold one on the porch during a sweltering summer's day.
After that triumphant January meeting, it was full steam ahead for Humble, who admits he was shocked by the community's overwhelmingly positive response.
"The doors weren't just opening — they were being blown wide open," he says. "I felt like the idea was now pulling me along. I was having to keep up with the momentum that the community was generating about the brewery."
Committed to community
From the beginning, Humble knew Grapevine Craft Brewery had to be a community business. While raising capital for the start-up, he marked $50,000 to be funded from the Grapevine community and surrounding areas via the crowdfunding website, Fundable. He began the online campaign this past May, and by the mid-July deadline, Humble blew past his goal, raising nearly $62,000 and receiving the title of one of the most successful microbrewery start-ups in history (only one other U.S. brewery has topped $60,000).
"We spent a significant amount of time gaining traction on social media," he says, of the reason the brewery had so much success raising capital online. "I've seen a lot of people launch kick-starters, and they've got like 75 likes on Facebook — you can't go anywhere with that. We had about 2,000 likes before we even ventured out into the campaign, and now we're over 5,200. We were sure to build the social community — making sure people were aware and were talking about us — first."
Clearly the people of Grapevine not only wanted a brewery to call their own, but they were also willing to put their money where their "likes" were. The brewery was created out of and in response to the community's wishes, and accordingly, it plans on giving back to the people who made its existence possible.
"We are a community entity, so we thought it was important for the community to have some sense of ownership of the brewery," Humble says. "We are going to continually give five percent of our profits back every quarter, just like we would any other investor. We decided right away that our first partnership would be with local organization, GRACE, so we gave that five percent away right then."
The fundraising success didn't stop there: Three local businesses agreed that if Humble reached his $50,000 goal, they'd write GRACE a check for an additional $500. In total, GRACE received $4,600 as a result of Humble's crusade.
From the ground up
Choosing where to set up shop proved to be more difficult than Humble predicted. After nixing the idea of using an existing structure to house Grapevine Craft Brewery — Grapevine has a very limited industrial district, most of which is located on DFW Airport property — he decided to build on a piece of land off of Main Street. However, construction delays pushed the building's opening date from this month to March 2014. Beer-lovers needn't worry, though — Humble and his team are already brewing out of a temporary space in Farmers Branch and are scheduled to be on taps the first week of November.
When the brewery does open, it will be a two-level, 8,100-square-foot barn-like structure complete with an outdoor patio, upper level tasting room and space for a 30-barrel brewhouse — a place for the community to enjoy and gather, soaking up the delicious brews produced there.
"We're going to be a block off Main Street, and we want to be a business that the community is proud of," Humble says. "We're in Grapevine, Southlake, Colleyville — that's our neighborhood, so we have to up our game. If we're going to build a brewery in this area, we have to put our money where our mouth is."
To help him launch the business, Humble enlisted the expertise of head brewer Caton Orrell, a 10-year veteran from Boulevard Brewing in Kansas City (Boulevard is one of the top 10 largest microbreweries in the country), and assistant brewer Jon Powell, a longtime home brewer who completed a six-month brewer's training program with the American Brewers Guild this past July. Powell is also a certified cicerone, someone who is sensory trained to know how to pair food with beer — there are fewer than 30 in the entire state of Texas.
"We will also be bringing on someone to lead our distribution because we will be self-distributing," Humble says. "So from grain to glass, no one touches our beer but Grapevine Craft Brewery. When that beer gets poured into your glass, it came directly from us."
Using brewing equipment from Canada, a mill from Germany and a keg wash from California, GCB is currently producing Lakefire rye pale ale, the first of Humble's four signature brews to be distributed to approximately 50 area restaurants, including The Ginger Man in Southlake and Flips Patio Grill, Peace Burger, Chill Sports Bar and Tolbert's in Grapevine. Inspired by the leisurely summer atmosphere surrounding Lake Grapevine, the flagship brew is refreshingly hoppy and spicy with a sweet maltiness. The three other brews — Sir Williams English brown ale, Monarch wheat and Nightwatch stout — will follow Lakefire in the coming months.
Local beer with local flair
As the North Texas craft beer scene continues to explode — Cobra Brewing Co. out of Lewisville recently announced plans to open in the city's historic Main Street district — Humble's Grapevine Craft Brewery stands out because of what its brand is all about: giving back to the community. With close to 200 "community owners" (those who invested in the brewery through Fundable), the brewery has many supporters who are both eager to sample Humble's distinctive brews — high-quality beer made with only the finest ingredients — and also eager to see him succeed.
"We love Grapevine, and I've been wanting to start a business for a long time," Humble says. "Being an entrepreneur, at some point you have to take the risk and jump."