Making a Getaway in Montana
Oct 28, 2013 12:00PM ● By tina
Go Wireless During Your Next Vacation Retreat


Travel with Catherine Adcock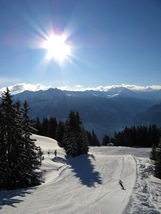 Desperate to detox from a constantly connected life? Plan a getaway to a destination where cell-phone towers are few and far between. In Montana, you can go unplugged without giving up any of the creature comforts your city slicker side demands, whether on a dude ranch or at a traditional resort. There's no telling what will happen when the members of your party can't disappear online. You'll be able to reconnect with your loved ones while meditating on the great big sky and wide-open spaces. With great national parks, even better slopes and all the outdoors activities your heart desires, Montana can keep even the most information-superhighway addicted person thoroughly entertained.
Winter Adventures
Montana's high-season takes place during the summer, which makes for awesome adventures of cattle drives and park exploring. But booking a trip during the colder months offers an extra-special wonderland for those who've only experienced a North Texas winter. With 300-plus inches of snowfall a year, Montana and its mountain ranges offer more than just skiing adventures. And that's not even to mention the lower off-season rates.
So if you want to hit the slopes, don't head to your usual spot, where your exposure to nature consists of making your way down a manicured mountain straight into a warm and cozy lodge. Head to the exciting wild west of Montana, and be prepared to leave your cell phones at home.
Do A Dude Ranch
Book a week for the gang at one of many working guest ranches in the state. Winter months make for dogsledding, snowshoeing, ice-fishing, ice-skating and many other activities. We promise it's not as cold as it sounds, particularly if you outfit your company wisely. (Long-johns aren't just funny-looking clothes you see in old Western movies.) The Ranch at Paws Up, located about 35 miles northeast of Missoula, consists of a 37,000-acre working ranch where packages are planned around you. Whether you're booking a romantic weekend for two or 10 days for the family, Paws Up will take care of your every need — and even a few you didn't realize you had. You can go ultra-luxe with one of their cabins or "rough it" in a luxury tent featuring attached bathrooms with heated floors.
If you're looking for a more authentic experience with a less hefty price tag, consider Bar W Ranch, located on Spencer Lake, just minutes from the Whitefish Mountain Resort, which offers six-day and three-day packages at more affordable rates. Between the sleigh rides, snowmobiling and of course, included skiing and snowboarding, Bar W will keep you entertained and smartphone-free. You can head into the nearby town of Whitefish for a more "urban" experience, but we doubt you'll want to leave the ranch. 
Steaming Springs
Need a more traditional route to relaxation on vacation? Can't blame you. Fairmont Hot Springs Resort offers the same access to skiing adventure from a luxury facility with not one, not two, but four pools fed by a 155-degree hot spring, cooled to varying temperatures. You can even hit the resort's outdoors waterslide mid-winter, with snow on the ground and a chill in the air, and enjoy an exhilarating 350-foot ride (fed by hot spring water, no less), before landing in the cozy 90-degree heated outdoor pool. Take your pick of indoor and outdoor Olympic-sized pools (both around 90 degrees) and indoor and outdoor hot pools (around 100 degrees). Any skiing-related aches or big-city stresses that a hot pool can't fix can be properly addressed at the resort's Whispering Willows Spa. 
Stuck on The Slope
If all you want out of your winter vacation is skiing — but you want to feel like you've got a mountain all to yourself, head to Red Lodge. Instead of manicured wide-open lanes, here you'll find narrow slopes — from beginner to expert in difficulty — cut through a dense forest. In 1996, the resort added 700 acres of new trails, so we're sure you'll have plenty of elbowroom. Snowboarders will love the mountain's bowls and rails, perfect for tricks and jumps. You'll find your lodging in the nearby town of Red Lodge, a place full of history perfect for little ones. Wild does not even begin to describe life in this now-sleepy town around the end of the 1800s. Riots, violence and lawlessness were commonplace on Red Lodge's streets. In 1897, the Sundance Kid and a few friends robbed the bank across from the Pollard Hotel. Book a room there and you'll be staying in the same hotel that once provided boarding to Buffalo Bill Cody and Calamity Jane. 
A Mountain Of One's Own
Of course, if you must have access to nearly deserted ski slopes, you can, at a price. Become a member of private Yellowstone Club and you'll have access to state-of-the-art chairlifts, impeccable snow grooming and world-class ski instruction. The Yellowstone Club also offers an 18-hole golf course and trout-fishing streams. Not only must members pay a $300,000 deposit and $30,000 in annual dues, they must also buy real estate in the club's development, whether that is a condo (starting at $2.5 million), ranch ($18 million) or even an empty lot. For that price, you'll get to rub elbows with Bill Gates, Google's Eric Schmidt and Justin Timberlake, satisfying your inner-teenager and inner-geek all at once. 
Leave It To the Experts
If you need help planning your own get-away-from-it-all getaway — and you might, cell phone towers seem to be everywhere these days — call Off the Beaten Path.
The experts in adventure traveling will tailor a vacation to suit the needs of every member of your party while leading you to spots left out of guidebooks and online reviews. They wrap it all up in an all-inclusive package and take care of every last detail. Take advantage of one of their guided group tours available throughout the year — Yellowstone Winter Wonders is featured in January — or call to find out more about private custom journeys.