Luxury Review - Silver Oak
Oct 28, 2013 02:39PM ● By tina
Napa Valley Cabernet Sauvignon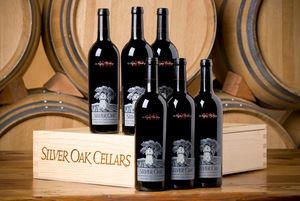 Truly celebrate the tradition of Silver Oak and its commitment to quality with this collector's edition of the winery's Napa Valley cabernet sauvignon.
The 42-year-old winery made a name for itself with a striking commitment producing the finest quality cabs this side of the Atlantic — remarkable when every other winery seems more committed to the newest trend or blend than it is to well-crafted vino. While you will find other varietals bearing the Silver Oak emblem, it's the cabs that we love and Silver Oak offers two, one from its Napa Valley winery and the other from Alexander Valley. The winery's ongoing commitment to quality over cash flow shows in its refusal to release wines before they are ready to be uncorked, so the latest vintage Silver Oak you can buy any given year will always be at least four years old — two years aging in barrels, two in bottles.
Explore the intricacies and delicate touches that mark each vintage of Silver Oak's Napa Valley cab with this collector's edition, which includes the 2003 to 2008 releases. The winery maintains a large stock of older vintages, suitably stored to be ready for sipping later.
You can impress guests uncorking one of these and rest assured that the cab, famous for being food-friendly, will pair well with whatever you're serving. Silver Oak's Napa Valley offers a smooth finish, much more delicate than the area's typical cabernet sauvignon. While each year has its own distinct character, Silver Oak cabs all offer notes of dark berries paired with an earthy, smoky flavor that owes more than a little to the quality time spent in American Oak barrels.
The wines, rated between 87 and 91 according to Wine Enthusiast magazine upon release, have only aged and improved with time. So go ahead, uncork one of the six bottles that comes with this set and get ready to swirl, sniff, sip and enjoy! 
Specs:

Silver Oak Napa Valley Cabernet Sauvignon
2003 - 2008 Collector
$775