Dragon CX Sweeps District Meet
Oct 29, 2013 12:11PM ● By tina
The top five Lady Dragons placed in the top ten of the meet, qualifying as a team and individuals for regional competition.
1st Place Varsity Girls and Boys Advance to Regional Meet in Lubbock

Submitted by Lori Palmer

It was a great day to race and great day to be a Dragon runner. All Dragon teams placed 1st in the district 4-5A meet, and it is the third consecutive year for the top honors. The top three varsity teams advance to the Regional Meet in Lubbock along with the top 10 runners individually. 
"We are very proud of the performance and effort that our Dragons displayed by winning all four divisions at the district meet," said Southlake Carroll Head Coach Justin Leonard. "We need to put this win in our rearview mirror and start focusing on the regional meet. We like to say it's time to start hauling when the leaves start falling."
The Lady Dragons' top five scoring runners placed in the top 10, qualifying as a team and individually. Crossing the finish line together in 2nd, 3rd and 4th were Katie Burnham, Sam Young and Tig Archer (18:55); 5th place was Moriah Dadson, and Kayli Jones grabbed 7th place to complete the scoring and top 10 runners. Freshman Ari Lopez finished with an impressive 12th place (20:02), and senior Haley McFadden finished at 25th place. The Lady Dragons' team scored 21; Keller Timber Creek placed 2nd (56); and Justin Northwest advances with a third-place finish and team score of 82.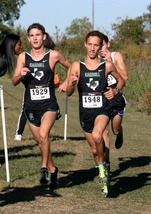 The Dragon varsity boys' first-place finish was led by seniors Jacob Pickle and Connor Hendrickson. Pickle left the pack with 400 meters to go and had a PR and course record of 15:17; Hendrickson came in at a close 3rd (15:28); always a strong finisher was Eli Canal in 6th (15:35); Luke Lanham placed 13th (16:29), Ansel Richards 15th (16:41), Brent Aydon 16th (16:42) and Johnny Kemps 17th (16:45). The Dragons advance to regionals with their first-place finish and team score of 38; Keller Timber Creek placed 2nd (45), and Keller finished 3rd with 55 team points.
JV Dragons Show Depth

The Dragon JV girls showed their depth by receiving 15 of the 20 medals and seven in the top 10. Placing 2nd in the JV competition was Sophie Watson, Stacy Young 3rd, Gillian Mortimer 4th, Sarah Odneal 6th, Rianna Randolph 7th, Kate Brekken 8th and Amy Riera 10th, Callie Colvin 11th, Shelby Hobohn 13th and Camill Olson 15th.
The sea of green continued as the JV boys team scored 18 points with 11 taking home district meet medals and claiming the top three places. Timou Toure with a first-place finish, Eric Vetere 2nd, Alex Riera 3rd, Kyle Polansky 5th, Michael Waugh 7th and Tanner Dotson 8th, Reed Brown 14th, Eric Karl 16th, David Archer 17th and Chase Grossman 18th to complete the top 10 JV runners.
The Southlake Carroll Cross Country Varsity team will compete at Mae Simmons Park in Lubbock on Nov. 2nd in the highly competitive regional meet. The top three teams and top 10 individuals continue their quest in the state meet at Old Settlers Park in Round Rock on Nov. 9th.  More results can be found at TX Running and Southlake Running.