Dragon CX Advances to State
Nov 04, 2013 11:35AM ● By tina
Lady Dragons earn 6th consecutive Class 5A Region 1 title and advance to state.
Jacob Pickle Earns Individual Gold Medal and Conner Hendrickson Brings Home Individual Silver Medal in Class 5A Region I


Submitted by Lori Palmer

The Carroll Girls and Boys advance to the State Championship after wining the Class 5A Region I Meet in Lubbock on Saturday, November 2.  The girl's team has won six consecutive Regional Titles and the Carroll boys have won 3 consecutive 1st place titles.  The weather was clear in the higher altitude of Lubbock at the Mae Simmons Park, which is known for its steep hills, gravel, dust and tight turns on the 3-mile course.
"They came out hard, and it was a great team performance," said Coach Justin Leonard. "We're going to try to come away with some hardware at the State Meet.  That's the ultimate goal, and it's going to be tough.  You add Region II and Region III, and the competition will be challenging, but this is our goal every year."
In a field of nearly 200 regionally qualified runners, Carroll Girls had two top ten finishers, Sam Young (5th) and Tig Archer (6th). Senior Katie Burnham kept the fast pace and grabbed 14th, Moriah Dadson 21st, sealing the first place title was Kayli Jones 37th place finish and completing the seven runners was Ari Lopez 52nd and Haley McFadden (58th).  The Southlake Carroll Girls team scored 70 points, Flowermound 76 and Hebron 89 points, and will advance to the State Meet.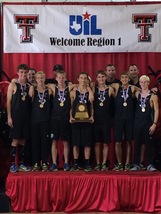 In the Boys race, Jacob Pickle took the individual Gold and Connor Hendrickson came home with the Silver.  "They are both seniors, and for them to have finished first and second at their last regional meet was a good thing to see," said Leonard. Eli Canal finished 13th, senior Brent Aydon 38th, Ansel Richards 41st, Johnny Kemps 70th and Luke Lanham 79th for the Carroll Boys. The team scored 89 points, Timber Creek 98 and Keller 110 and will compete in Round Rock on November 9.  More results can be found at TX Running and Southlake Running.
Girls
5th Place – Sam Young (17:56)
6th Place – Tig Archer (18:06)
14th Place – Katie Burnham (18:32)
21st Place – Moriah Dadson (18:50)
37th Place – Kayli Jones (19:21)
52nd Place – Ari Lopez (19:38)
58th Place – Haley McFadden (19:50)
Boys
1st Place – Jacob Pickle (14:52)
2nd Place – Connor Hendrickson (15:00)
13th Place – Eli Canal (15:28)
38th Place – Brent Aydon (16:04)
41st Place – Ansel Richards (16:06)
70th Place – Johnny Kemps (16:29)
79th Place – Luke Lanham (16:39)