Two for the Road
Nov 12, 2013 04:43PM ● By tina
Aaron makes friends in Ghana.
Former Southlake Carroll Students Begin Their Volunteer Service in the Peace Corps

By Linden Wilson

Abbey Walsh and Aaron Eubank have a lot in common. The 2009 Carroll Senior High School graduates both studied international relations at colleges in Washington, D.C. — Abbey at American University and Aaron at George Washington University — and they both studied abroad in Africa — Abbey in South Africa and Aaron in Cameroon. Now fresh out of school, their shared passions for learning and mutual interests in vibrant African culture have led them both to embark on perhaps one of their greatest adventures yet, serving for more than two years in Africa as members of the government's respected volunteer program, the Peace Corps.
Choosing the corps
In 1960, then-Senator John F. Kennedy challenged students at the University of Michigan to live and work in developing countries while providing assistance and promoting peace. Officially established just one year later, the Peace Corps program has given more than 200,000 Americans the opportunity to serve in approximately 140 countries around the world, offering aid in areas such as education, health, community economic development, environment, youth in development and agriculture. Today, volunteers continue the organization's mission of encouraging peace and friendship by establishing understanding between Americans and the people of other countries.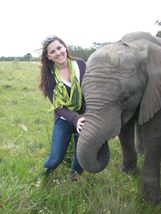 When she learned of the Peace Corps at 15 years old, Abbey set a goal to join the ranks after college. (Even then, she was certain she'd rather travel the globe than be chained to a desk.) While studying international development as an undergrad, she focused on Africa. The more she learned about development there, the more she knew she wanted to serve in the Peace Corps.
"I love the idea that they focus on communities — that grassroots effort, really asking for what they need and starting at a low level," she explains. "I feel like that's one of the most successful things we can do as people who work in development. It's so important to create relationships with people."
During his time in Cameroon, Aaron learned about the Peace Corps and became interested in how it could provide him the opportunity to continue his education.
"I visited Africa a couple times in college, both during study abroad and as a summer program, and I became really interested in the continent's different countries and their respective cultures," he says. "I thought the Peace Corps was the perfect fit, because I had always learned that education was the key to development in my studies."
This past September, Aaron left to teach English in Rwanda, while Abbey anxiously awaits her youth development service that begins in January in Morocco. Both will spend 27 months abroad — approximately 10 weeks of in-country training followed by 24 months of volunteering — and although they're not strangers to living in Africa, their time in the Peace Corps will make for entirely new adventures.
Out of Africa
Applying to the Peace Corps is a lengthy and labor-intensive process. Over the course of nine to 12 months, candidates must submit written applications and recommendations, go through a formal interview and obtain legal and medical clearances. Very few make it through the organization's rigorous selection process. Originally, Abbey and Aaron had the same application timeline, but Abbey got held up when she turned in her medical paperwork — a heart surgery she had in middle school immediately slowed her down.
"I was put in the pile to be checked later," she recalls. "If you didn't have certain health flags, you got automatically cleared, which is what happened to Aaron." However, the setback didn't deter her. "It's a really competitive program, but a lot of it is self-selection. If you don't keep up with the process or if you think it's too hard, you're not going to make it."
Abbey's perseverance paid off, and she's now counting down the days until she can explore Morocco, where she'll be assigned to a community center likely located in a rural area and in charge of creating programming for local youth.
"We'll work with the community to see what they want and need," she says. "I'm probably going to help teach English — a lot of kids need help in order to pass their matriculation exam. There are also things like working with artisans to help them set up websites, doing resume prep, running summer camps and organizing aerobics classes for women — it's a Muslim country, so women usually aren't allowed to go in public spaces and work out."
Abbey, who has worked on women's issues in D.C., has a tremendous amount of respect for Muslim cultures, even if the roles typically reserved for women are different than what she is accustomed to.
"I think it's really important for me, thinking about the goal of cultural exchange, to be in an Arab country, learn Arabic, participate in Muslim culture and show people back home that these people are amazing," she says. "Unfortunately, we're in a time where Arab people are targeted. I didn't think I would be sent to the Middle Eastern region, but I'm really excited about the things I wasn't expecting to be a part of my life, from not being able to interact with men most of the time to the way that I dress and being in Ramadan."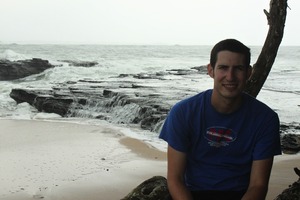 Aaron, who will be challenged with learning Rwanda's native language, Kinyarwanda, will teach late middle school and high school children 15 hours a week, with the remainder of his time devoted to training other teachers in English.
"They just changed Rwanda's curriculum from French to English," he says. "So about 70 percent of the teachers are still really comfortable speaking French. I have some French background, so I'll be using French with them and helping them transition in math, science and other subjects."
Having already seen the West African countries of Cameroon and Ghana, Aaron is looking forward to the mountainous Rwanda and its climate, which averages between 50 and 90 degrees throughout the year.
"I'm really excited. I hear it's an absolutely beautiful country," he says. "I don't really know as much about East African culture, so I'm excited to learn about Rwanda from Rwandans because it has such a rich history. I'll be there for the 20th anniversary of the genocide, and I want to see how that's dealt with."
During their first three months in Africa, Aaron and Abbey will each complete community-based training. Alongside a few other Peace Corps volunteers plus a local liaison, they'll live with local families and complete 8-hour days of language and cultural training before getting assigned to their positions. Once they're in their post, they will enjoy plenty of flexibility and independence.
"They say whether a volunteer succeeds or fails in their drive is all about where you put your maximum effort," Aaron says. "It's not necessarily getting through the 27 months or having the most successful classes, but the fact that you put in the time and tried to engage with the community."
The far-off future
It will be Christmas 2015 when Aaron makes his way back to the U.S. and says he's tentatively considering attending grad school once he's home. Abbey, however, says it's just too far off for her to make concrete plans.
"Whatever I end up doing in Morocco is going to change the course of what I want to do," she says. "Right now, I just want to be out and traveling. I want to explore. Two of my best friends are also serving in the Peace Corps, so hopefully, I'll be able to travel and see how their sites differ from mine."
Time off during Peace Corps service is scarce — about two days of leave per month — and the pay is modest, but that's entirely the point.
"They want us to live like those who live there," Aaron says. "They give us a monthly stipend for everything we need, like food, communication and leisure. You can obviously spend your own money, but they discourage that. At the end of the day, this is a volunteer thing — we knew what we were signing up for."
Abbey agrees she's not concerned about her monetary situation and thrives on the unknown that comes with immersing herself in a foreign country.
"We're doing this to help people not only in the places we serve but back home, too, increasing the awareness," she says. "We're going to be living very different lives than in Southlake, but I'm really excited."