White Cloth Comfort
Nov 13, 2013 02:38PM ● By tina
GM Sabrina Scully, Executive Chef Aaron Henschen and CEO Mark Mednansky bring Del Frisco's Grille to Southlake. Photo courtesy of BluDoor Studios.
Southlake's own Del Frisco's offers delectable dishes to suit every taste at its newest Grille

You couldn't miss it: a constantly changing construction site on the corner of Southlake Boulevard and Carroll Avenue. What used to be the parking lot adjacent to Corner Bakery will soon be home to a popular concept in the restaurant industry. With an anticipated opening in late December, Del Frisco's Grille brings its talented staff, upscale casual atmosphere and classic food with a twist right to the heart of Southlake.
Home base
Del Frisco's Restaurant Group — which owns and operates Del Frisco's Double Eagle Steak House and Sullivan's Steakhouse in addition to the Grille — is not in Kansas anymore. CEO Mark Mednansky, who has more than 35 years experience in the restaurant business, moved his company headquarters from Wichita to Southlake five years ago. He was attracted to the affluent suburb's dynamic community and proximity to DFW International Airport.
"I travel a lot, and I knew Southlake would be a great place to bring our business because people want to live here," he says. "Everyone is active, whether it's with Dragon football or all of the events that go on in Southlake Town Square."
The youngest of the three DFRG concepts, Del Frisco's Grille has enjoyed an enormously successful growth rate — from its inaugural year in 2011 to 2012, the Grille's revenue increased to $24 million from $4.5 million. A sort of hybrid of the group's first two restaurant concepts, the Grille offers an exciting dining experience with approachable pricing that resonates with guests.
"We created this concept for the folks who don't want to have to cook but want to be taken care of and enjoy a great meal," he explains. "I can go get a steak and a glass of cabernet, my wife can get her ahi tuna salad and her glass of sauvignon blanc, and we're both happy. It's not a traditional two-hour meal. It's white tablecloth service but quicker and very relaxed."
Prior to Mednansky's decision to open the Southlake location, area residents who frequent his restaurants in Dallas and Fort Worth would approach him at his Kimball Avenue office, practically begging him to open something closer to home.
"We thought the Grille concept really fit the dining and social needs of the people who live in this wonderful community," he says. "It's going to be a hotspot — you're going to be able to see everybody on that busy corner of Southlake Boulevard and Carroll Avenue, and you're going to want to be seen there. We love Fort Worth, and we love Dallas, but we knew that Southlake was where we wanted to live and work and where we could grow the company. It's been a win-win in every regard."
In the kitchen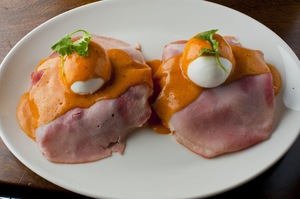 At the heart of Del Frisco's Grille's menu — a mix of prime steaks, fresh seafood and the restaurant's unique take on traditional American fare like cheeseburgers and tacos — is Aaron Henschen, executive chef of the Dallas location. He will quickly become a familiar face after he relocates to man the Southlake kitchen.
A member of DFRG for nine years, Henschen rose through the restaurant company's ranks to become a well-recognized culinary professional. The Ohio native with a passion for food was living in North Carolina in 2004 when he went door-to-door to more than 60 restaurants, looking for work. On the verge of giving up, he tried one last restaurant, Sullivan's Steakhouse, where then-chef Thomas Dritsas (now the company's vice president) hired him as a line cook on the spot. He earned $8 an hour.
"He trained me in everything," Henschen says. "I was extremely lucky because, at the time, I had no clue, no experience. I used to always write things down because I would forget them easily, and he thought I was stealing recipes. I had to tell him, 'No, I'm just trying to learn.'"
Henschen was promoted to sous chef only a year later and went on to serve as executive chef in Leawood, Kans. for four years before relocating to open the Dallas Grille. He sources his goods locally in order to provide customers with dishes made from only the simplest, freshest ingredients. Produce is delivered from Homestead Farms and bread from Empire Baking, seven days a week. The Grille's seafood is caught to order in Boston and flown in the very next morning.
"It's extremely fresh and smells like nothing," Henschen says. "The tuna in our Asian salad — which has about seven or eight ingredients — is phenomenal."
Although he hasn't totally finalized the Southlake menu yet, Henschen says guests can expect to see Grille favorites like tuna tacos, steak salad, cheesesteak eggrolls, roasted tomato flatbread and coconut cream pie, plus weekend brunch fare like red velvet Belgian waffles and the crabcake benedict.
"We call it Fun Day Sunday," he says. "I think it's a good time for people to be relaxed and casual and have a little cocktail with their family and friends."
A place for everyone
The future Southlake Del Frisco's Grille location will boast another member of the DFRG family who knows what it's like to work your way up. In 2002, future Southlake General Manager Sabrina Scully began her career as a bartender at a Sullivan's in Louisiana (where Mednansky served as her regional manager) before being promoted to assistant manager and then general manager.
"I think it's invaluable as the boss to remember what it's like to be an hourly employee," she says. "We're all a team. If one person isn't doing well, then the team won't function properly. After 11 years with the company, I couldn't imagine working anywhere else."
When complete, the contemporary two-story Southlake Grille will comprise 8,000 square feet and feature expansive upstairs and downstairs outdoor patios, a first-floor fireplace and a variation of the Grille's signature wine wall offering between 300 to 500 selections.
"They are all different throughout the country — when you go to each location, you get a little bit of that city's feel," she says. "In Southlake, I believe there is going to be a pretty great wine wall that you can actually walk underneath."
The Grille's craveable menu, inviting bar and upbeat atmosphere attract a wide variety of customers, from guests celebrating 40th anniversaries to those hosting 21st birthday bashes. Whether dressed in jeans and cowboy boots or a cocktail dress, guests will feel comfortable in the restaurant's casual, sophisticated space.
"It's definitely a place for everyone," Scully says. "We'll have diners enjoying a craft beer and a burger and then others having an elegant dinner with a funky bottle of wine. It's just got a really great neighborhood feel."
All part of a plan
With the distinguished DFRG brand behind it, it seems obvious that Del Frisco's Grille will succeed, especially in the town the company calls home. When DFRG went public in July 2012, it only set the stage for added future success — beginning with more than $70 million raised in gross proceeds.
"Going public gave us access to funds to fuel an aggressive growth plan that we have for all three dynamic brands," Mednansky says. "We don't have to worry about any financial constraints that would keep us from growing at the pace we want to grow."
From New York City — where Grille guests can sit on the patio with a view of an ice-skating rink — to Santa Monica — where diners sit opposite a pier overlooking the the ocean — Mednansky and his group only select the best locations.
"We pick great sites," he says. "If there's anywhere you want to be in Southlake, you want to be in the town center. We know everything that's done there will always be first-class, which is why we chose it."
When he's not enjoying a meal at a Del Frisco's restaurant, Mednansky loves eating at Armand's, Mi Cocina and Brio — not only because of those restaurants' great food but also because of how well the owners and staff members treat their guests. And while Southlake undoubtedly has plenty of fantastic places to grab a bite, the new Del Frisco's Grille offers a fun take on the American bar and grill in a modern, stylish space, serving up bold flavors, handcrafted drinks and market-fresh ingredients.
"Whether it's lunch, dinner, happy hour or brunch, we deliver at a high level," Mednansky says. "And the food just knocks your socks off."