Blacked Out for Black Friday
Nov 13, 2013 03:03PM ● By Mike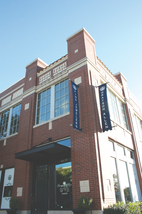 Each year, starting with the Black Friday shopping rush, retail sales ratchet up dramatically as gift givers step out in force for the holiday season. According to the U.S. Census Bureau, December jewelry store sales reach an eye-popping 19 percent of sales. With Black Friday just weeks away, one Southlake retailer is taking an interesting approach.
Stepping aside from the onslaught of retail buzz, Keary Turner, owner of Grayson Allen Fine Jewelers in Southlake, plans not for the day, but more for the weeks to come. "This is a really busy and exciting time of the year for Grayson Allen," he says. "But we are definitely different in that we are actually closed on Black Friday. We let our team take the day off to spend with their families."
There is a method to staying away from the retail madness of the day, and Turner knowingly lets the Grayson Allen staff rest up. "We typically do as much as a quarter of our business in the month of December."
Despite taking a retail holiday when most stores open at the stroke of midnight, the preparation at Grayson Allen starts months in advance. "It all starts with hand-picking the store's holiday inventory during the summer months," Turner explains. "Then we go a little overboard throughout the store during the holidays with Christmas trees, decorations, lights, holiday candles and complimentary treats and beverages for our shoppers. We also have extended store hours in order to accommodate our customers' busy schedules."
Keeping in touch with the needs of both his staff and his customers, the Southlake retailer expects to have a successful holiday season.
Business in Keller is on the Rise
According to the city's economic development report from January through August of 2013, 50 new businesses have opened in the city of Keller. The list includes nine new restaurants, 24 new retail businesses and 17 offices. With continued expansion, the city is also experiencing increased retail sales.
"It's an exciting time to be in Keller, and we are looking forward to our continuing commercial growth," says the city's Economic Development Coordinator, DeAnna Beseda Reaves. "We've had a number of significant projects come online in the past year and several more are under construction and currently in development." According to the city's August 2013 Sales Tax Rebate report, there was a 4.5-percent increase over the same period a year ago — a positive sign the economy is recovering.