Dragons Dominate Bowie To Advance in Playoffs
Nov 18, 2013 11:52AM ● By tina
Photo courtesy of Rex Teter Photography.
Dragons v. Arlington Bowie - all photos courtesy Rex Teter Photography [12 Images]
Click Any Image To Expand
The Dragon playoff run picked up right where the regular season ended as Southlake Carroll rolled over Arlington Bowie, 56-14, at Friday night's 5A Division 1 bi-district playoff matchup at Coppell's Buddy Echols Stadium.
As the Dragons move to 2-1 in recent playoff games against the Volunteers, Hal Wasson's club dominated both sides of the ball and got the ground game going. Totaling 351 yards rushing on offense, they contained Arlington's explosive offensive attack led by Tony James, as well as returning quarterback Keaton Perry who accumulated 265 yards in total offense.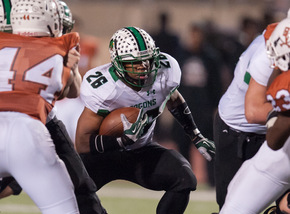 Scoring on four of its first five possessions, the Dragon offense got off to a hot start, jumping to a commanding 35-14 lead at the half. A strong rushing attack led by senior running back A.J. Ezzard, whose three first-half touchdowns (including a 20-yard scamper with 19 seconds left in the second quarter) pushed the Dragon lead to 21 after a Bowie touchdown pass from Perry, pulled the Volunteers within 14 and provided a steep uphill battle for a sputtering Bowie offense. Ezzard, who has been extremely hot as of late — running for 340 yards and seven touchdowns in his last three games — finished his most impressive outing of the season with 164 rushing yards and four touchdowns on 24 carries. Quarterback Ryan Agnew finished his first playoff start going 10 for 13 for 165 yards through the air while adding 92 rushing yards, including a 19-yard touchdown run in the first half.
As the Dragons took full control of the game in the third quarter, converted linebacker Steven Bergemark joined the rushing touchdown party, plunging in for a four-yard score to put the Dragons up 49-14. Playoff inexperience proved to be no problem for Carroll's young offensive line who dominated a Bowie front seven, allowing the offense to control the football and keep the Volunteers' athletic offensive playmakers off the field for the majority of the evening. Putting together one of its better efforts in the most critical game of the year, Tim Wasson's defense unit held the Volunteers to under 300 yards of total offense while forcing two Bowie fumbles.
"We were looking to make a statement this week," said senior defensive tackle Nash Dickey. "I don't think we've played to our full potential as a defense yet. We played well but we still made a few mistakes that cost us some yards. I think we proved we can contain an athletic offense and we're not to be overlooked." The physicality displayed by the Dragon defense and the Dragon secondary created problems for the Bowie aerial attack as Bowie's two-quarterback combination was limited to only 78 yards through the air.
The Dragons (10-1) look forward to continuing their playoff run Friday as they face Midland Lee (9-2) at Saginaw's Chisholm Trail Stadium. Kickoff begins at 7 p.m. 
Photography courtesy of Rex Teter Photography.

Robert Halliman is a senior journalism major and political science minor at Lehigh University in Bethlehem, Penn. A 2010 Carroll Senior High graduate, Robert played defensive tackle for coach Hal Wasson from 2007–2010.  An aspiring sports agent and media personality, Robert is also a member of the Lehigh University Business Careers and Entertainment Club.