Algebra Too Soon
Dec 02, 2013 02:43PM ● By tina
Why do Bad Algebra Grades Happen to Good Students?

Sponsored by Mathnasium of Southlake
By Meredith Jones, Center Director Mathnasium of Southlake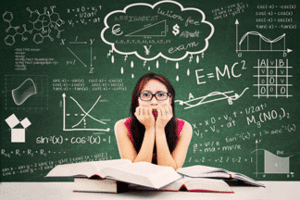 Differentiating curriculum in a classroom has always been a challenge for teachers, especially those teaching math. Every student is unique and comprehends math in his or her own way. Although it is imperative to develop a strong foundation in the elementary and intermediate grades, not all students are able to do so. This leads to a concept that we at Mathnasium call "Algebra Too Soon." 
In first through fourth grades, students are expected to develop strong arithmetic and problem-solving skills. Their journey includes counting, addition, place value, subtraction, multiplication, division, fractions, decimals and one-, two-, and multi-step problem solving.  Some of the main foundation gaps that occur are in the areas of addition and subtraction by way of "finger counting," "touch counting" or "tally counting."  Students rely on these methods and never truly memorize their math facts. Unfortunately, this problem is not limited to hindering solely their math facts; rather, it leaks over to their problem solving, multiplication, division and other skill areas. 
In fifth through eighth grades, students are expected to further develop their problem-solving skills, proportional thinking and algebraic number sense. Their journey includes percents, fractions, decimals, proportions, solving equations and integers. As in the elementary grades, foundation gaps occur for many reasons — one of the main reasons being that material is being presented to the students too quickly, especially for students still struggling to fill in gaps from elementary school. 
In today's society, the spirit of competition is alive and well. Students not only compete on the field but also off the field — in the classroom. They are being presented with a large undertaking by attempting to get ahead and work at an accelerated level, sometimes combining two years' material into only one year. Although some students are fully capable of doing this, many are not. There are many arguments for and against this method of acceleration. One argument against this concept is that of a student's maturity level in the intermediate and middle school grades and whether they can accept the responsibility of a compressed curriculum and extra work in their classes. Although the method might work for certain capable students, it is also expanding the already large number of students who are rushed into Algebra too soon, leaving them with major foundation gaps that inhibit them from succeeding in their Algebra I class. 
If foundation gaps are not addressed, they deteriorate confidence and future success like a cavity in a tooth, becoming deeper and more painful if concepts not mastered are left unaddressed. Unfortunately, I see many students come to Mathnasium who made A's in their previous math classes but have no idea how to solve the problems because they never mastered the underlying concept. A student may be able to memorize how to do certain types of questions, but they do not necessarily understand why their steps lead them to their answer in the first place. We want to make sure every student understands what he or she is doing and why they are doing it; we call this number sense. Whether a student is in second or 12th grade, they need to feel comfortable in their math class at school, developing number sense and mastering the concepts, not just the questions.
So, where does Mathnasium fit in for a child's overall pattern of math education? Schools are the primary education provider; Mathnasium is a supplemental education provider. As a supplemental education provider, Mathnasium is structured as a learning center rather than a tutorial service. A tutor's job is to help a student get through tonight's homework and Friday's test. Mathnasium does provide a degree of support in terms of homework and upcoming tests. However, our primary role as a learning center is to delve into the reasons why tonight's homework is such a huge issue. Usually, this requires overcoming a series of knowledge gaps, as discussed above, that students have incurred over the years.
Nearly every student we assess has some gaps. They are anywhere from six months to several years behind. As a learning center, our role at Mathnasium is strategic: a long-term proposition. Our job is to ferret out those gaps and then supplement students' education by filling in those gaps over time and providing a deeper foundation. This is why our assessment process is so important; it helps us pinpoint these gaps and provides us with a foundation on which we build the student's program at Mathnasium. It's important to keep this long-term objective in mind. If we just worked on tonight's homework, we might get through it and help them come up with the answers, but we wouldn't be teaching these kids anything in the long run. We could give the students a fish for dinner, or we could teach them how to fish so that they may have dinner for a lifetime.
Quite simply, we don't offer a quick fix. In extreme cases, the student may be so far behind that it is not possible to salvage this year's math grade. We must focus on getting the child caught up. Ultimately, taking the long-term approach with our students will offer them the most benefit. At its very core, Mathnasium's mission is to offer a lasting solution to kids' math problems. This is the place where kids come to solve their problems in math. It's when we function as a learning center — not as a tutorial service — that we get a remarkable increase in student performance. The best part about Mathnasium is that your student does not have to be behind to enroll into our program. Every student, whether catching up, keeping up or staying ahead, can benefit from outside math help, especially to develop number sense and fluency skills that will help them be successful in the real world. Join us at Mathnasium and let us make a difference in your and your student's life!
For more information on Mathnasium and our curriculum, please visit our website at Mathnasium of Southlake, call (817) 421-1900 or drop by the center at 1251 E. Southlake Blvd., Suite 305 and see how we make learning fun.