One Doctor's Extraordinary Tale of Perseverance
Jan 09, 2014 09:42AM ● By Anonymous
By Linden Wilson



Mind Over Matter


Born into a broken home that included a mentally unstable mother, an abusive alcoholic father and an older brother who abused drugs, it seemed that David Rothbart was destined to follow the same unhappy path his family members had fashioned. However, something special about David made him different. During a parent-teacher conference in the first grade, his teacher, Mrs. Shavens, told his mom that 6-year-old David could achieve anything he wanted. That single moment changed his life. Now a Yale-educated, board-certified neurosurgeon and founder of two exemplary medical institutions, David lives a life he never imagined, made possible by his resilience, resolve and ability to transform adversity into opportunity.
Challenging childhood
Growing up in Chicago, David knew other kids his age had very different lives. After school, they returned to stable homes full of normal family activities. David's home only offered volatile chaos that often resulted in him spending much of his time alone. When he was 11, David's mother told him she and his father were getting divorced. He remembers what happened next with absolute clarity — two days later, his brother told him to pack his bags and that his mother was going to be admitted to a psychiatric hospital. David was then dropped off at the home of a family friend, where he happened to catch the news. A story flashed across the TV screen, about a man and a boy who had been murdered. It was David's uncle and cousin. Already shaken by his immediate family's troubles, David cried for 12 hours straight.
"That night was the hardest night of my life," he says. "But even amidst the tears, somehow, I knew if I just survived that one night, I would be okay. I kept saying to myself that there had to be a reason for all of this. Call it fate or destiny, but I believed that there was a purpose for me going through all of that."
With his mother hospitalized and brother gone, David went back to living with his father, whom he saw only a few hours a week. David cooked his own meals, did his own laundry and dedicated himself to his studies. It was then that he realized that doing well in school and working hard was his sole ticket out of adversity.
"I might not have been the smartest kid in my class, but I was determined to be the hardest working," he says.
David's mother returned when he was 12, and he became her caregiver. Yet just one week before his sophomore year of high school, he came home to discover she had committed suicide. At her funeral, he says he didn't cry, relieved that her suffering was over. After enduring escalating abuse from his father — mostly verbal but sometimes physical — 16-year-old David decided to move out, knowing that his current environment would prevent him from achieving what he was meant to accomplish. The family of his closest friend, David Richter, took him in, a decision David is forever grateful for.
"There weren't a lot of options for where a 16-year-old kid could go out and survive on their own," he says. "Some of those places were not so pleasant. David's parents asked me to come live with them, and I stayed with various parts of his family over the years. Those are the people who I call my family to this day."
A whole new world
David continued to support himself through various after-school jobs, which allowed him to save enough money to attend the University of Illinois. After graduation, he entered the university's medical school. As part of his neurosurgery residency, David completed a year of general surgery internship at Cook County Hospital in Chicago.
One day, while treating a young girl with a gunshot wound to the head, David was stabbed by a man in the hospital looking for drugs. Although his wound healed successfully, his determination was once again tested as he willed himself to survive. At the same time, the medical school was facing a significant shakeup — many of the professors David admired began leaving, followed by his chairman. Rattled by these events, David briefly considered a change in career before ultimately deciding to continue pursuing his goal to become a neurosurgeon.
Taking a leap of faith, he chose to apply for the one available position at Yale's medical school. (About 130 neurosurgery positions at various schools become available each year, with thousands applying from across the country.) When he was accepted, he could hardly believe it.
"I was pretty unfamiliar with the ivy league world of Yale," he says. "I wasn't student council president, and I wasn't a debate champion. I was a kid who was working 40 hours a week trying to scrape together enough money to attend a state university, and that is not your typical Yale profile."
Not only did David receive an extraordinary education at the prestigious university — he also met Juan Bartolomei, a fellow resident whom one day would become a founding partner at Spine Team Texas, and a nurse named Laura, who would become his wife. After completing his residency at Yale, David went on to complete a fellowship at the Barrow Neurological Institute in Phoenix, serve as an associate professor of neurosurgery at Rush College of Medicine in Chicago and practice at the Chicago Institute of Neurosurgery.
While in Chicago in the late 1990s, he began to take notice of how fragmented the spine-care model was and how patients often experience a great deal of frustration.
"I was also frustrated as a spine care provider that I couldn't control all aspects of the quality of care my patients were receiving," David says. "Many of them had challenging issues, but even if they don't, they deserve optimal care no matter who they are. I began developing the concept of a true multidisciplinary approach for spine care and the idea that patients should avoid surgery whenever possible."
A few years later, David was recruited to Texas to serve as the medical director of neurosurgery for two large area hospitals in the Metroplex, but he always kept his spine care plan in the back of his mind. Finally, in 2004, the man who spent most of his life overcoming unimaginable obstacles achieved his dream, partnering with Texas Health Resources to found both Texas Health Harris Methodist Hospital Southlake and his own multidisciplinary spine practice, Spine Team Texas. 
Success in Southlake
Southlake became David's number one location for the hospital and Spine Team Texas when, after several years living in Dallas, he realized the affluent suburb was a major growth area with a great patient population.
"I love taking care of the people in Southlake," he says. ""One of the biggest things I love about this area is the motivated patients who want to get better but also want to stay better and work hard at it. This is the best place to practice medicine in the country — we have a Metroplex that is one of the fastest-growing places in the country, and we have an economy that withstood the recession better than any other metropolitan area. I don't think we could have picked a better area."
In the past nine years, Spine Team Texas — with Juan Bartolomei as a founding partner — has grown beyond David's wildest dreams, from a staff of 14 people to 14 doctors and approximately 150 employees in three full-time locations (Southlake, Rockwall and Fort Worth-Alliance).
"What we've created here is a seamless experience where the patient is surrounded by excellence, and I'm not talking about just the physicians," he explains. "I'm talking about every point of contact for the patient. Whether they're visiting the hospital or Spine Team Texas, they are met with a smile by someone who cares about that person not as a case but as a person. It's very important to me that the culture of all our locations is really focused on the patient experience."
All three Spine Team Texas facilities and Texas Health Southlake have become very successful over the years. Contributing to that success are Traci Bernard, president of Texas Health Southlake who was previously the vice president of clinical support and operations at Baylor Regional Medical Center in Grapevine, as well as Mark Hood, CEO of Spine Team Texas who is a former president of Baylor Grapevine. David attests that Traci and Mark each embody a culture of excellence that has translated well in the leadership of Texas Health Southlake and Spine Team Texas. In fact, Texas Health Southlake receives numerous accolades that often include No. 1 Best Company to Work for in Texas, Best Place to Work in Healthcare and Best ER. David was recently named a 2013 Annual Spine Leadership recipient by Becker's Spine Review as a leader in business and the spine industry, but he admits personal awards pale in comparison to the recognition the hospital and Spine Team Texas receive.
"Those are what resonate with me because it kind of ties back to my story," David says. "I get a lot of credit, but there were a lot of people who helped me along the way. Oftentimes, you think of these big, major things someone does, but it really wasn't like that. It was a series of small to medium-size acts of kindness people offered to me that changed me and gave me this opportunity. If I hear someone say, 'Oh, I'm just the person who does blank,' that conversation stops right then and there, because they're not just the person who does that. They are a critical piece of the puzzle, and they have to recognize it."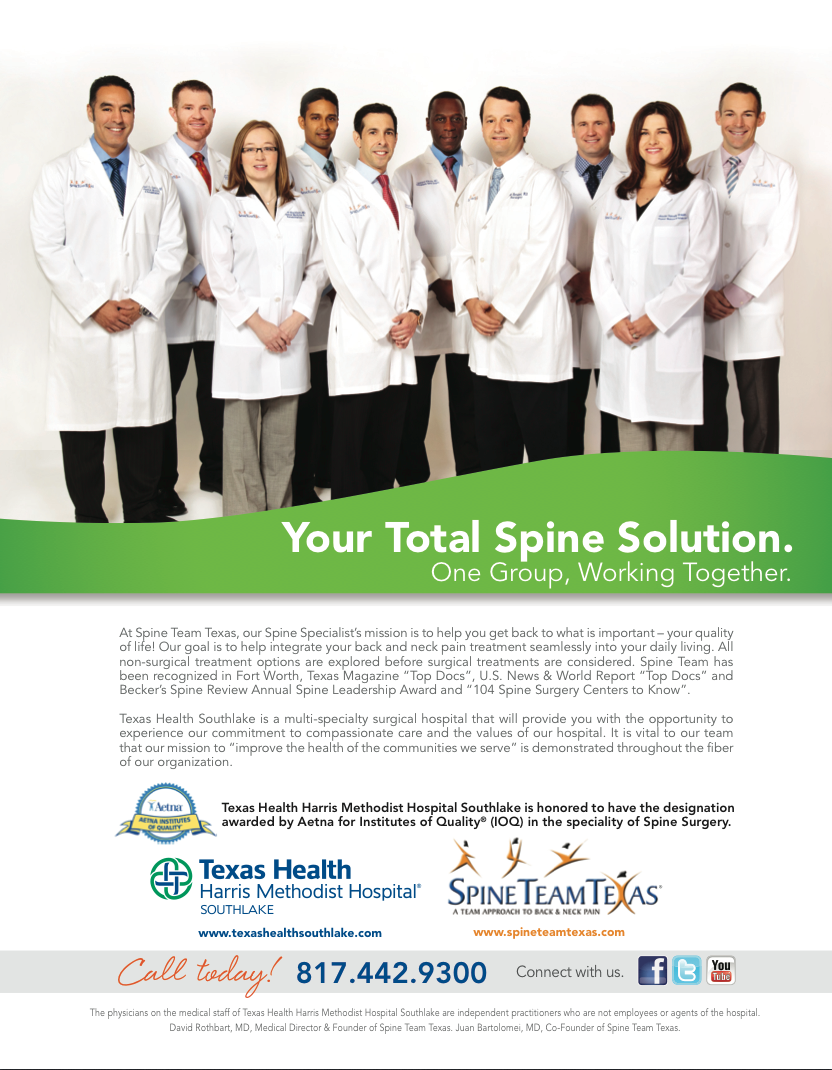 The power of kindness
Although the healthcare industry is currently facing many challenges, David says Spine Team Texas is thriving in spite of the healthcare climate because he applies a certain mantra to his practice: Where there is chaos, there is opportunity. He also applies the phrase to his own life and uses it as he and Laura raise their two sons, ages 16 and 13.
"I tell them all the time about the fact that they are going to stumble, and they are going to fall, but that's part of life," David says. "The measure of a person is not what they did to stumble or fall, it's what they did to pick themselves up, to not repeat that and to make themselves a better person because of it."
David's 16-year-old son is already showing an interest in medicine, having spent a day in the OR at the hospital this year as part of a mentoring program that allows students to gain exposure to clinical medicine. However, David says he will neither dissuade nor persuade his son to pursue medicine — he just wants him to do something he's happy with.
If it hadn't been for Mrs. Shavens' happy and encouraging words David heard when he was merely 6 years old, he's not sure he would have ended up where he is today. It was her kindness, the kindness of his best friend David Richter, the friendships he formed in medical school and the loving relationship with his wife that helped carry David from struggle to success.
"In first grade, I wanted to become a surgeon," he says. "I'm not exactly certain why — probably because I like to identify a problem, develop a plan, fix it and move on. But becoming a doctor ended up being a two-pronged aspect of my life. It was a goal of something I wanted to do, but it also ended up saving my life. Overcoming all of those challenges, while difficult along the way, taught me a lot of valuable lessons. No matter what the obstacles are, they are never insurmountable."
The physicians on the medical staff of Texas Health Harris Methodist Hospital Southlake are independent practitioners and not employees or agents of the hospital.
David Rothbart, MD, Medical Director & Founder of Spine Team Texas. Juan Bartolomei, MD, Co-Founder of Spine Team Texas.