'Special Espresso' hits Southlake
Jan 20, 2014 10:19AM ● By Anonymous
By Derek Smith, Patrizio Osteria General Manager
Have you ever ordered an espresso, sipped it, and wonder what the big fuss is? 
I was the one asking the very question. I didn't understand what the big draw was to an immensely powerful and bitter tasting beverage that prepared you to "bounce off the walls." 
However, I was converted when introduced to our "Special Espresso", a slow drip espresso that prevents the espresso beans from burning, typically causing the bitter taste that most of us experience outside of these walls. 
With "Osteria" being an authentic Italian gathering establishment, why not sip on the best espresso you'll find in Southlake?
Some of the Team's preferences:
Oscar: lemon twist & Sambuca Black
Derek:  lemon twist & Frangelico
Johann: The "Espresso Elixir", our newest addition to the cocktail menu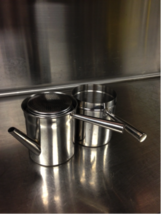 Patrizio Osteria's cuisine is based in traditional Italian family fare, but refreshed and revitalized with more modern approaches to some of the classics.