Renowned Artists Help Paint a Picture of Art in the Square
Mar 17, 2014 10:31AM ● By Anonymous
Painting by Martin Lambuth.
As the Southlake Women's Club gears up for another year of Art in the Square, we are taking some time to highlight the artists featured throughout the three-day event. 
Art in the Square
is celebrating its 15th year of existence, providing a world class juried fine arts festival that brings world renowned artists and entertainment to North Tarrant County. 
Over the years, Art in the Square has raised $2 million for local charities that continue to help women, children and families. 
Here are three of the many well-known artists featured throughout Art in the Square:
Janelle Lindley is a contemporary impressionist painter. She creates landscapes in acrylic as well as mixed media "paper paintings" on wood panels. Her style is characterized by dramatic use of color and contrast.  She is both an artist and a teacher, regularly holding classes and workshops for adults and children in her studio in Garland, TX.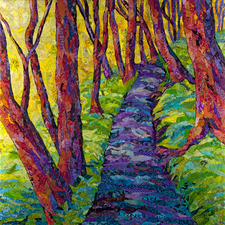 Paper Painting on Panel- "Flamingo Sunset"
Martin Lambuth has a passion for exposing others to art. Whether for a brief moment or a prolonged period of time, paintings create an opportunity to escape from everyday life, to visually step into another world and linger in its nuances. Lambuth is intrigued by the sense of light and how it impacts a scene, whether subtle or dramatic, and the potential of its emotive powers. But the real satisfaction from painting is the joy in someone's eyes as they revel in the art from their own inner perspective.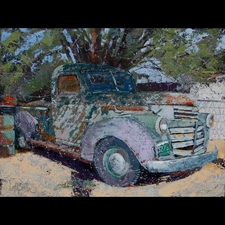 Martin lives in Denver Co and paints with oil and acrylic.
TJ Thompson is the 2014 Event T-Shirt Featured Artist and is known for his ability to capture ordinary lives and routine moments with a thought provoking message, his paintings are his inner voice placed on canvas. He does this in a way so others may see, feel and participate with him in telling of the story.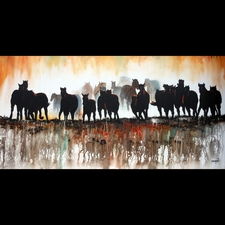 "Mustang Alley"-oil, Cortez, CO oil/arylic