The Summer's Best Cold Drinks
May 27, 2014 01:21PM ● By 16560
June 2014By Linden Wilson
It's summertime in North Texas, which only means one thing — it's really, really hot. As in humid, sweltering, melt-if-you-step-outside hot. In our opinion, there's no better way to beat the heat than by grabbing a seat at your favorite restaurant and ordering an ice-cold, thirst-quenching beverage. We scoured the area in search of the coolest libations and discovered there is certainly no shortage of unique creations, from cocktails and beer to ice cream floats. Chefs and bartenders across town are constantly coming up with new concoctions while keeping tried-and-true favorites on their menus. We'll drink to that!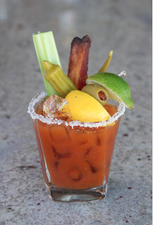 Build-Your-Own Bloody Mary
When Southlake got its Grille this past December, the city also got one of the best brunch menus in Dallas-Fort Worth. And what is more synonymous with brunch than the Bloody Mary? Del Frisco's Grille uses a house-made mix comprising 10 different ingredients and Tito's vodka, straight out of Austin. Served alongside the drink is a plate piled high with add-ons including celery, pickled okra, bacon, green beans and a toothpick with lemon and lime slices, plus an olive. You also have the option to add a salt-and-pepper mix and Tabasco sauce. Enjoy your customized beverage in the cool indoors or on the Grille's comfy outdoor patio.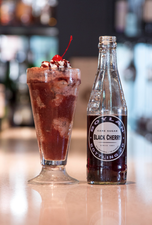 Habanero Chocolate Brownie Ice Cream Float
FnG Eats
Introduced in April, this concoction from the farm-to-market Keller restaurant is not your average ice cream float. The dessert drink is served in a frosted milkshake glass stacked with double vanilla bean ice cream prepared at Henry's Homemade Ice Cream shop in Plano. Infused in the ice cream are tiny chunks of chocolate and habanero pepper, one of the spiciest there is. A bottle of Dark Cherry soda from Boylan Bottling Company — which has produced handcrafted cane sugar sodas since 1891 — is poured over the ice cream, creating a frothy brim and a deliciously unique infusion. "It offers a true rollercoaster ride for the senses," says Bob Stephenson, FnG Eats' chief proprietor and chef. "The spicy kick comes at the end because you sense spicy tastes in the back of your tongue."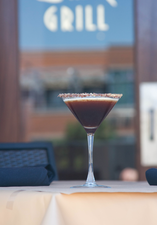 Espresso Martini
Although this sweet treat pairs well with land items like The Angler's Steak, an 11-ounce wood-grilled sirloin, you'll find it on Bonefish's dessert menu. The martini is ideal for a post-dinner cap because of its coffee nature. Prepared with freshly made espresso, Svedka vanilla vodka, Kahlua and crème de cacao, it's served with a scrumptious chocolate sugared rim. Don't worry if you find yourself sipping it faster than you might a regular martini — it's just that good.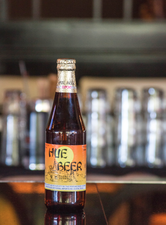 Hue Beer & Asian Pear Margarita
Distributed by Austin-based Artisanal Imports and originally brewed in Vietnam's Hue Brewery, Ltd., the Hue (pronounced "whey") lager beer is pale golden in color with crisp white foam, and it's just hoppy enough to pair perfectly with the spicy Asian flavors found on Howard Wang's extensive menu. The restaurant's Asian pear margarita is small but packs a punch — Grand Marnier, Casamigos tequila, Monin pear, sweet & sour and lime juice, garnished with an Asian pear slice, lime and five spice. Casamigos is the brainchild of George Clooney, who drew inspiration for developing the liquor while spending time in Mexico with his friends.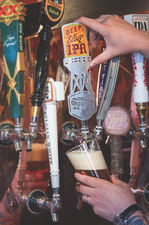 Deep Ellum IPA
This cool and casual pub offers an endless amount of beers on tap, but one that's great for summer is the Deep Ellum IPA. It's brewed from all-American hops, including Citra and Amarillo hops that produce tropical fruit and citrusy notes, yet still delivers enough bitterness. "One of my favorite things about this beer is it's readily available all over the Metroplex, and they also can it," says Michael Vallandingham, general manager of the Southlake location. "The great thing about it being canned is that it can accompany you on all your favorite outdoor activities where bottles are prohibited, like the beach, lake or parks."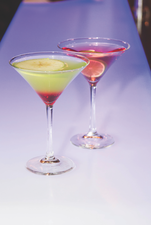 Appletini & Big Al's Favorite Cosmopolitan
Known for its authentic Creole fare, Copeland's also boats a large cocktail list perfect for perusing while you sit at the 360-degree Chroma bar, which rotates through a rainbow of bright colors. Both the Appletini — a special blend of Vox green apple vodka, Apple Pucker, Midori, fresh squeezed sweet & sour and grenadine — and Big Al's Favorite Cosmopolitan, made with Ketel One vodka, Cointreau, fresh lemon and lime juices and a splash of cranberry, are Copeland's crowd favorites. Eight of the restaurant's liquors are famously chilled at five degrees on signature frosted taps.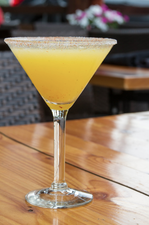 Mango Jam
Just last month, TruFire unveiled an updated menu featuring several new drinks, including the fruity Mango Jam. A refreshing blend of roasted jalapeno, fresh mango, lime juice and Sauza Blue tequila, the cocktail is finished off with a rim sprinkled with cayenne pepper and sugar. It's best to sip and swirl on TruFire's patio, a relaxing and tranquil escape from the hectic pace of everyday life.