When New Concepts Meet Favorite Flavors
May 27, 2014 02:02PM ● By 16560
June 2014By James A. Reid
R+D Kitchen
Continuing the "and" theme in the name of the restaurant, I present you with one of my go-to dining spots, R+D Kitchen in Dallas, which is one part of the Los Angeles-based Hillstone Restaurant Group.
R+D Kitchen is tucked away in the back of a high-end shopping center in North Dallas — near a Hillstone location (flagship restaurant of the group). According to Dallas Executive General Manager Francis Luttmer, the original R+D location is in Newport Beach, Calif., and the concept began by constantly "Researching" and "Developing" (hence the R+D) new dishes that led to a constantly changing menu. Customers complained when favorite dishes disappeared off the menu, so the restaurant now sticks to its most popular dishes on a pared-down menu.
Fresh, handmade ingredients prepared daily result in consistent excellence no matter what is ordered off the menu. That same attention to detail is reflected in the bright yet cozy interior. A curved wood slat ceiling is the signature design feature in the restaurant, while strategically placed windows allow natural light to flood the space. Additionally, direct and indirect lighting provide a glow in the space at night. There isn't a great deal of seating in the restaurant, so be prepared to wait outside or at the bar for one of the cozy booths to open up.
As I mentioned, this is one of my favorite spots to dine for brunch, lunch, dinner or anytime in between. It is a must to begin any meal at R+D with the dip duo, which is a platter of house-made tortilla chips that comes alongside freshly prepared guacamole and a mound of chilled queso. Yes, chilled queso. It has the texture of pimento cheese, but tastes like top-notch queso. Don't forget to ask for a refill on the chips — you will need them.
From the sushi options, you cannot go wrong with the Thai Tuna Roll. Fresh Ahi tuna rolled with rice and seaweed is combined with macadamia nuts for a twist of flavor, texture and crunch.
From the sandwich section of the menu, order the Rubenesque Sandwich, which is definitely big enough for two. Stacks of corned beef are piled high in between slices of Swiss cheese and thick slices of toasted corn rye bread.
If you prefer a lighter choice, the popular Newporter salad could be one of the best salads anywhere in the Metroplex. The salad features mixed greens tossed with bacon, cashews, chopped egg and roasted chicken in a bacon vinaigrette dressing. The ingredients are simple, but the combination offers amazing flavors and texture. Finally, the chicken meatballs and spaghetti offers up a tomato sauce that balances the right amount of tangy bite with a hint of sweetness. The perfectly seasoned, hand-rolled meatballs are also offered as a side item because they are strong enough to stand on their own. Foodie Fellow tip: Get the broccoli on the side rather than tossed into the spaghetti.
Well-prepared food in a comfortable, relaxed setting served up by extremely professional and knowledgeable wait staff is a winning combination. I hope R+D Kitchen becomes a favorite destination for you as well.
R+D Kitchen
8300 Preston Center Plaza, Dallas
214-890-7915
Hillstone.com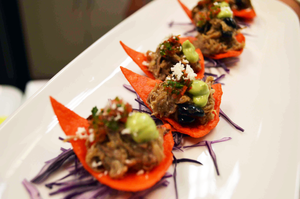 Marcona Kitchen
Dynamic chef duo starts new catering company   

Two former chefs for the Dallas Cowboys have set up shop in Southlake, offering two distinctly delicious businesses out of the same building on the corner of Davis Blvd. and Southlake Blvd. Gabe Valdez and Katie Kennedy, who spent five years cooking food for luxury suites and all catering outlets at AT&T Stadium, have owned and operated custom cake studio The Cakery for two years and started catering company Marcona Kitchen in August of last year.
"We realized that the catering market here was virtually untapped, with many residents looking to Dallas or Fort Worth for their catering needs," Kennedy says. "We thought Southlake would be a great opportunity for us to reconnect on a more personal level with many of our clients and offer premium quality service right here in the neighborhood."
Marcona Kitchen is named after the Marcona almond, a Spanish almond with a unique, rich flavor. The boutique catering service, which has created superbly crafted dishes like beef tenderloin crostini and heritage-braised pork belly, works directly with clients to create a menu based on specific themes and flavors they are looking for. "Whatever the clients' visions are, we try to help them create a unique event that exceeds their expectations," Kennedy says.
Both Valdez and Kennedy have experience with all levels of catering, from VIP dinners of four people to food service for thousands. "We have cooked for many celebrities and professional athletes," she adds, "and our culinary opportunities were endless — citrus and chile-braised short ribs, Australian rack of lamb, pan-seared Chilean sea bass, liquid nitrogen ice cream and inside-out s'mores pops." One of Kennedy's favorite culinary memories? Super Bowl XLV in 2011, when she executed more than 100,000 desserts from scratch. 
Marcona Kitchen
2001 W. Southlake Blvd., Southlake
817-912-1270
MarconaKitchen.com