Lake Life
May 27, 2014 02:18PM ● By 16560
Lake Tahoe.
June 2014

Because lounging lakeside sounds pretty good right about now
School's out for summer, and if you haven't already made plans for a fun vacation, you're in luck — we know just what you need. Pack up the car, pack up the kids, and head to the lake. If you don't want to travel too far, Lake Grapevine is your best bet. Feeling like escaping a little further away? Try Lake Texoma. Or, if you really have an adventurous spirit, take a trip out west to Lake Tahoe. Wherever you decide, you'll feel immediate relaxation as soon as your feet hit the water. Ahh, summer.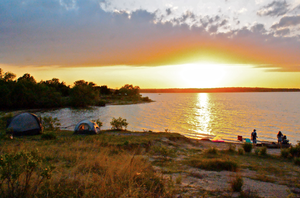 Lake Grapevine
Right in our own backyard, Lake Grapevine is an ideal getaway spot during these hot summer months. Spanning 8,000 acres, the lake is a busy hub for boating, waterskiing, windsurfing and fishing. It also boasts two marinas, Silver Lake — nestled in a cove on the northeast side — and Scott's Landing, located in the heart of Grapevine at Oak Grove Park. The larger of the two, it's also surrounded by boat clubs, activities and plenty of waterside dining.
When you take the family camping, there's no better place to go than The Vineyards Campgrounds and Cabins, award-winning grounds that offer space for tent and cabin camping as well as RV sites. The Vineyards also has its own boat ramp, fishing pier and nature trail. Make sure to carve out time to explore the nine miles of wilderness trails and the numerous parks that surround Lake Grapevine — from Oak Grove, which includes 40 acres and a ballpark complex, to Lake View Park, which, you guessed it, has sweeping views of the lake as well as playgrounds and a beach area. GrapevineTexasUSA.com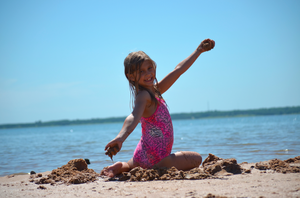 Lake Texoma
The 12th largest lake in the U.S., Lake Texoma spans a large portion of the Texas-Oklahoma border and is just about an hour's drive north of the Dallas-Fort Worth Metroplex. Known for its expansive size, the lake is a premier fishing destination for Texans and Oklahomans alike. The naturally occurring mineral salts found in its soil allow striped bass to spawn and grow naturally to a whopping 15 to 20 pounds, and approximately 70 additional species can be found in Lake Texoma's waters, including largemouth, spotted and white bass, blue, flathead catfish and black and white crappie and channel.
Sailing is also a predominant activity on Lake Texoma, which offers more than two dozen marinas with boat slips that can accommodate sailboats and powerboats. You can also choose from many public boat ramps on either the Oklahoma or Texas side of the lake, which includes several picturesque islands. The scenery surrounding Lake Texoma is truly a beautiful sight — 25 miles of equestrian trails and a 14-mile-long hiking trail through wooded bluffs make for fun adventures post-swim. If you have animal lovers in your group, check out one of the two wildlife refuges that border the northern and southern ends of the lake. You're sure to spot birds like eagles, heron and egret, as well as whitetail deer and wild hogs.
Don't forget about exploring the small towns that dot the perimeter of the lake if you're looking for an afternoon of shopping and dining. For grown-up activities, try hitting the links at the Chickasaw Pointe Golf Course, or try your luck at the nearby Choctaw and WinStar casinos. LakeTexoma.com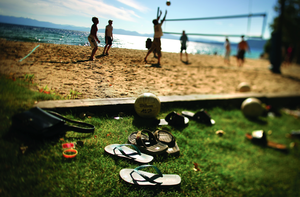 Lake Tahoe
This iconic body of water is situated along the California-Nevada border, beautifully surrounded by majestic mountains. Although it makes for a wonderful travel escape in the winter months — when skiing and snowboarding are popular — summertime at Lake Tahoe is equally as picturesque and enjoyable.
At the north end of the lake, you'll find a plethora of activities to choose from. Experience the clear, crystal-blue waters for yourself with a lake cruise or on a motorboat, kayak or jet-ski excursion, or see the lake from high in the sky during a parasailing adventure. If you're on a boat — and we sure hope you are — check out Lake Tahoe's many dine-and-dock options after an afternoon spent on the water. Chamber's Landingoffers fine dining, while Gar Wood's Grill & Pierprovides a laid-back café vibe.
South Tahoe is no exception when it comes to watersports and various family fun activities. Rent a standup paddle, wave runner, paddleboat or kayak and explore the lake's waters, which offer a remarkable visibility of 75 feet. South Tahoe's plethora of beaches offer additional amenities — Regan Beach includes a snack bar and volleyball area, while Lakeside Beach, one of the finest sand beaches around Tahoe, has a lifeguard on duty during the summer and is within walking distance of upscale restaurants and shopping. VisitingLakeTahoe.com