Paul Stankowski Q&A
May 27, 2014 02:34PM ● By 16560
June 2014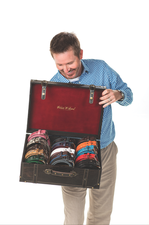 In 1978, Paul Stankowski played his first round of golf with his dad and brother on Easter Sunday. Eighteen years later, the professional golfer went on to achieve what he calls his greatest memory: winning the BellSouth Classic, his first PGA tour event, also on Easter Sunday.
In the past few years, Paul's career has slowed down significantly. Hampered by injuries and with a desire to spend more time with his family, the Flower Mound resident sought a new venture that was a bit less time-consuming yet still professionally fulfilling. After chatting with good friend Mike Vicary about partnering in his leather goods business, the two joined forces in 2013 to create Francis Edward (FrancisEdward.com). The upscale accessories brand specializes in men's and women's belts made of exotic skins like alligator, lizard, crocodile, shark and anaconda. Southlake Style recently caught up with Paul to get the low-down on his leather luxuries.
Where did the name Francis Edward come from?
My middle name is Francis, and Mike's middle name is Edward. 
Where can customers find the brand?
We are currently selling through high-end golf shops and at Grayson Allen, a jewelry store in Southlake. We will also take phone orders if a customer doesn't have access to our products. Prices range from $150 to $600+.
Where are your products manufactured?
Everything is made right here in Texas.
Which belt styles are most popular?
When we started, we really thought our bestsellers would be the staples of black, brown and cognac. We quickly realized that our customers want to be unique, so we do lots of different strap colors with contrasting stitch/edge colors. Black and brown belts are everywhere, but the Ocean Blue alligator with white stich and edge color is very unique. It's been fun watching our customers get creative! 
What has the feedback been like since you launched Francis Edward?
I have been blown away with the response we have gotten so far. One club in Denver sold nine belts within the first 24 hours after receiving their display box!
What is an average day like for you?
I wake up, help my two kiddos get ready for school, drop them off, then drive 23 miles to the office with all of my friends (Francis Edward headquarters is in Plano). I head back home at about 5 p.m. The day is filled with emails and collaboration and helping to handle whatever needs to be done. Thankfully, we have a good team that takes care of a lot of the details.
What's your advice to someone who wants to start a business?
Ask lots of questions to people who have started businesses before and have been successful. I knew very little in regards to taxes and billing and just how expensive it really is to get a business off the ground. If I knew beforehand, I probably wouldn't have hung up my spikes! Only slightly joking.