Kenny Hill to start at QB for A&M
Aug 17, 2014 09:31AM ● By Mike
Kenny Hill is set to take over as the next quarterback for Texas A&M. Photo courtesy of Texas A&M Athletics.
Kevin Sumlin, head football coach at Texas A&M, has spent the offseason determining how to effectively replace Heisman Trophy winner and national phenomenon Johnny Football. After a quarterback competition throughout the summer, the third year head coach and his staff made the decision this Saturday morning to enlist former Southlake Carroll standout Kenny Hill as heir to the spot vacated when the Cleveland Browns drafted Johnny Manziel.
"The competition was close and that competition will continue to help us improve," Sumlin said. "I have talked to both quarterbacks as well as the team and we will prepare with Kenny getting the first-team reps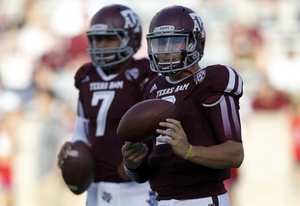 Last season as a true freshman, Kenny Hill was Manziel's back up in mostly late game situations where the outcome had already been decided. In four games as an Aggie Hill completed 16-of-22 passes (72.7%) for 183 yards and a touchdown. He also rushed for 37 yards on seven carries (5.3 yds/carry).  Even in limited action the stats proved the former Gatorade Player of the Year and Texas State Champion quarterback has what it takes to lead the Aggies in the post-Johnny Football era.
Hill now a sophomore, beat out true freshman Kyle Allen from Scottsdale, Arizona in a worthy competition. Allen was considered the top passer coming out of high school, and according to Sumlin, will continue to keep Kenny on his toes. During the battle for the starting position, the two quarterbacks were each given similar opportunities to show their talents during summer workouts. Sumlin said, "We put both the guys in the same situation over the period of 14 practices and 3 scrimmages." Both Hill and Allen each had around 200 snaps with the starters and backups. The time is roughly equal to 3 games worth of playing action.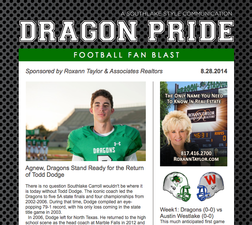 "Competition is a coach's best friend," and "Kenny is going to have to continue to work," said Sumlin to a group of reporters asking questions about the decision this weekend.
Texas A&M opens up their season with Kenny under center on August 28 when they face South Carolina.  Dragon fans should also note Saturday September 20 when Kenny and the Aggies return to North Texas to face the SMU Mustangs at Gerald Ford Stadium.
Looking for more Southlake Sports? Sign up for our 2x Weekly Dragon Pride Football Fan Blasts!

Head Coach Kevin Sumlin takes questions from the media about the decision to name Kenny Hill as the Aggies next starting quarterback.
Video embed code: