Dragons Win Season Opener
Sep 02, 2014 12:30PM ● By Mike
The spring re-alignment to the new powerhouse 7-6A district created a wealth of early anticipation for the 2014 football season. The thought of a regular season schedule boasting such post season rivals as Coppell and Euless had the entire city buzzing. For Dragon Nation, August 29 and the matchup against Austin Westlake couldn't come soon enough.
And that was before Hal Wasson took an impromptu May phone call from longtime friend and former Dragon head coach Todd Dodge.
"I called Hal to tell him I accepted the job," said Dodge, "and he told me Westlake was playing Carroll the first game of the year. I had no idea at the time, but we both got sort of a laugh … at the coincidence."
The two finished a brief and friendly chat and went to their respective corners to prepare for the week one matchup. The last time the two met was in the 2011 state title game where Dodge coached the Dragons and his son Riley to a 43-29 victory to the school's third straight state championship.
The weather was unseasonably cool Friday, and the stands were filled with Dragon faithful ready to witness Dodge's return to Dragon Stadium.
"Obviously it's a special place to me. I spent eight years here, and a lot of guys on the [Dragon] staff were with me then. It was special to be coming back here," said Dodge after the game. "Early when we got here I allowed myself to reminisce a little, but then I got focused in."
The Dragon Faithful were focused in as well, ready to see an air-raid attack like none ever. However, on opening night Ozarka may have brought the water  but it was the defense that reigned as the Dragons nipped Austin Westlake 17-14 in a hard fought battle.
Experienced senior quarterback Ryan Agnew returned under center albeit with a completely retooled supporting cast. Agnew threw for 101 yards, no touchdowns and was intercepted twice, yet the versatile senior did rush for 92 yards and a late third quarter score. Call it opening night jitters, solid defense or a little of both, Agnew and the Dragons could only muster 267 yards of total offense just slightly more than half of the team's average of 523 yards per game last season.
On Agnew, his lone returning starter Wasson said, "He always plays well. I want him to relax a little bit and not feel like he has to carry the whole team. And he will. It's so important for him to be good, but you have to remember he has 10 new guys around him. Once we settle down and get some experience I think you'll see a lot better stuff out of him."
With continued snaps together as a unit the team will begin to gel. And when they do it is clear junior tailback Lil' Jordan Humphrey will be a key weapon. Tall and athletic he showed plenty of range with sweeping runs rushing for 76 yards and a score on just 12 carries. He also led the Dragons with four receptions and 22 yards through the air. Another bright spot was senior Tariq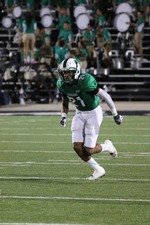 Gordon; the seasoned defensive back had three receptions for 32 yards, more importantly he set the tone as an emerging two-way star in the making.   
Gordon's hands were also on display defensively as he and senior Safety Kevin Cramer each picked off Chaparral passes for the team's two interceptions of the evening. The Dragons shut down Dodge's offensive system by throwing immense pressure at quarterback Sam Ehlinger. Four different players logged six sacks led by seniors Joseph Paulsen and Dragon Pride Player of the Week Joel McClellan with two a piece. King Newton added a sack as did middle linebacker Clark Parr whose 15 tackles paced the defense that held Dodge's Chaparrals to 266 yards of total offense.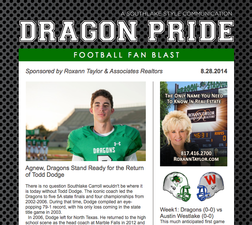 On this night, the defense kept the Dragons developing offense in the game and Wasson knows it.
"I can't say enough good stuff about our defense," said Wasson after the game, "The second half we did a remarkable job. Then we've got to respond offensively. We've got to do a lot better job protecting. We're not making excuses; we've got five new guys up front, and they'll be a lot better next week than they were this week."
Next up for the Dragons will be the Redskins of Tulsa Unionheld at AT&T Stadium. For more Dragon Pride sign up for our Football Fan Blast.