The New American Dream
Sep 04, 2014 04:20PM ● By Dia
By Gina Mayfield
The secret is out. (Okay, maybe for some really-in-the-know local foodies, the secret has been out for a while). But for the rest of us, the buzz about Trio, with its globally influenced/locally sourced New American cuisine, has just about reached fever pitch. 
Since 2009, husband and wife team Jason and Miriam Harper have been quietly building a culinary empire in a nondescript Colleyville strip mall. Somewhere between an Anytime Fitness and a hair salon, the 1,500-square-foot storefront belies what's going on inside. Here, world class cuisine — think Smokey Hatch Crab Wontons and Pork Milanaise — is on the menu … for lunch. Who knew Precinct Line Road had it so good?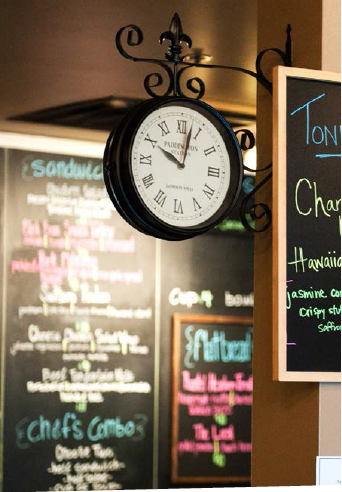 Well, apparently a lot of people. In the past six months, there's been a shift. Attempting to get a table on a Friday or Saturday night, without a reservation, is just about a lost cause. "If someone walks in and every single seat is full, and there's a line to the door and they end up not sitting down and eating, that's not really a bad thing for us," Jason says. "The one thing they took from that is, Wow, that place must be really good because they are completely packed. Then they'll make it a point to make sure they get in the door, either come earlier or give us a call and make a reservation."
He can be that confident this summer, Jason was one of four finalists in Fort Worth, Texas Magazine's Top Chef Challenge — along with Sebastien Layen of Cast Iron Restaurant, David McMillan of Bird Caf. and the eventual winner, Todd Phillips of J.R.'s Steak & Grill. Not bad company when you're still in your early thirties.
A Dallas-native, Jason grew up in a restaurant family, eventually landing in San Antonio at a series of chain restaurants and touristy spots before landing his first big break: Biga on the Banks, the River Walk institution and the standard for fine dining in that part of the state. There, highly regarded chef-owner Bruce Auden focused on New American cuisine. After three or four years, it was time for Jason to move on. "My family was up here in Dallas; I felt like I had gotten everything I needed to get out of San Antonio, so I wanted to come back home," he says.
Jason did his research and heard great things about Abacus, a five-star Dallas restaurant with celebrity chef Kent Rathbun at the helm. In the culinary world, interviews often come in the form of a stage (a French word pronounced stahzje), where a chef works briefly, unpaid, in another chef's kitchen to either learn new techniques and cuisines or simply to show off his culinary chops. 
Jason literally picked up the phone and called the restaurant and spoke to Tre Wilcox (who rose to fame in Top Chef's third season) and asked to stage on a Friday night. As Jasonputs its, "That basically means come into a kitchen that you've never been to before, with people you've never worked with before, and show up and just work, and try to be as productive as you can and help them and showcase your skills, without getting paid at all on the busiest night that they have." 
The gamble paid off. "At the time he didn't have anything for me, but I feel like I made an impression," Jason remembers. Tre sent him over to a friend at Nobu, in Crescent Court. After just a one-month stint, Tre called him back to Abacus. "I came over and worked as a line cook. I was there for about two years before I was promoted to sous chef."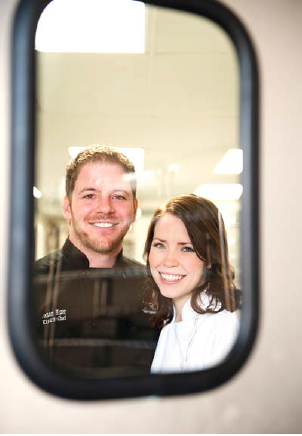 As if on cue, Miriam, a fresh-faced 19-year-old intern right out of culinary school, arrived at Abacus just after the promotion. A Fort Worth girl who had taken some recreational classes at the Culinary School of Fort Worth and later studied at Le Cordon Bleu in Austin, Miriam was ready for her shot.
A high-end restaurant — especially those with a celebrity chef at the helm — can be a revolving  door for interns. The work is hard and the hours are long, but Miriam excelled. "My wife had such a passion for what she was doing and such a strong work ethic already [instilled by her] parents, that she came in and it was like second nature for her," Jason says. Miriam eventually became the assistant pastry chef.
 "I had my sights set on her from Day One," he says. "My passion is and always has been food. I've dedicated my whole life to it and expressing myself creatively through food. I take it very seriously. She shares the same passion and has the same vision that I do as far as what she wants in life and what makes her happy. That's all it took for me," Jason says. 
"Honestly, we fell in love, got engaged, got married and then actually did all the food for our own wedding," Jason says.
A short time later, Jason was offered the cooking school manager position at the Central Market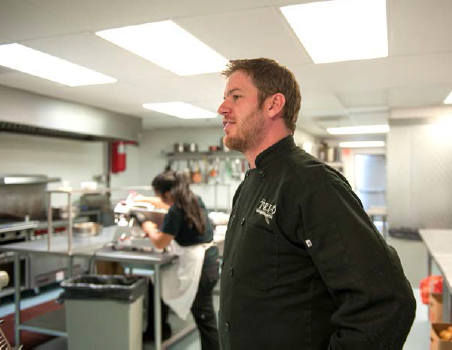 in Fort Worth, an offer he couldn't refuse. There, one of his volunteers kept telling him about a little restaurant and catering operation for sale in Colleyville. By this time, Miriam, at the ripe old age of 21, had become the head pastry chef at Mediterranean Villa, a meeting and reception facility in Arlington. 
In 2009, with the country knee deep in recession, 27-year-old Jason and 22-year-old Miriam were able to negotiate a deal to make Simply You, simply theirs. "It's the dream of a chef to not work for someone else and to have his own restaurant and do his own kind of food that he wants to do."
But still, as with the pursuit of most dreams, there was risk involved and plenty of naysayers to remind them of that. "Our entire family and friends all told us we were crazy, and we were making the biggest mistake you could make, going in undercapitalized, while at the same time there's a recession.