Dragons Ready for a Breakout Game
Sep 11, 2014 10:49AM ● By Mike
Deep threats: Parker Fentriss and Zach Farrar give quarterback Ryan Agnew speed on the edges. Combined the group of Carroll receivers look to give the Rebels all they can handle this week.
by EJ Holland
It's been a thrilling couple of weeks for Southlake Carroll as the Dragons have picked up wins in their first two games by a combined four points. And now they'll have their first true road test.
On Friday, Southlake Carroll will head west to take on a MidlandLee team that is still trying to put all the pieces together. This could be an opportunity for the Dragons to finally gain some separation instead of having to make big plays down the stretch.
"We're very excited for the road trip. Midland Lee is a good football team," said head coach Hal Wasson. "We want to get glaringly better up front with our blocking, and we want to improve our tackling. We haven't been as consistent as we would have liked."
Midland Lee is coming off an impressive 9-3 season, but the Rebels haven't exactly found their groove in 2014. They squeaked out a two-point victory against Keller in Week 1 and were dismantled by El Paso Coronado, 46-32, a week ago.
But Wasson isn't underestimating Midland Lee by any means. Out of their one-back multiple set, the Rebels are effective when in comes to pounding the football. Aaron Dobbins rushed for more than 1,000 yards a year ago and is off to a hot start this year, gaining more than 200 yards.
"This week, we have to do a better job communicating defensively," Wasson said. "We're not where I want us to be defensively in terms of communication. We have to get better at that and making sure we wrap up."
While Midland Lee and Dobbins might be able to find some daylight, it will be tough for the Rebels to stop or even limit Southlake Carroll's offense.  The Midland Lee secondary was torched last week by EP Coronado and appears to be the weakest link in their unit.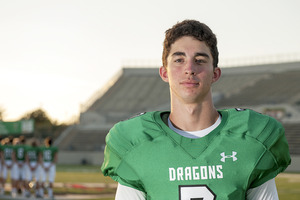 If Southlake Carroll quarterback Ryan Agnew  who has passed for 396 yards and one touchdown, can return to junior form, the Dragons should have no issue putting points on the scoreboard. But the offensive line must keep Midland Lee defensive linemen TJ Soto and Nathen Seav at bay.
"We really need our offensive line to do a better job blocking in this game," Wasson said. "I think it all comes down to being coachable. We've seen three or four offensive linemen make improvements, so we just have to continue to get better." 
Midland Lee is a familiar opponent for Southlake Carroll — the Dragons beat the Rebels twice last season by a combined score of 114-21. History should repeat itself in this one. 
Want more Dragon Pride?  Sign up for our Football Fanblast E-newsletters!