Dining Guide 2014 Howard Wang's China Grill
Sep 12, 2014 08:59AM ● By Dia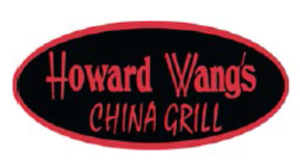 1471 E. Southlake Blvd.
Southlake, TX 76092
817.488.6667 www.hwrestaurants.com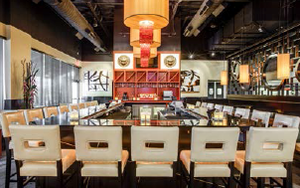 Howard Wang's offers a taste of China along with a unique blend of modern décor, comforting atmosphere and family crafted recipes. Chef Huang who comes from New York City's famous Peking Duck House, has been with Howard Wang's for over 31 years and is affectionately known by many as "serving the best duck in the Metroplex". On its menu: signature items like glazed wal- nut shrimp, Asian eggplant and ginger beef tenderloin , as well as handcrafted cocktails, premium sake, and Asian beers. Enjoy your meal inside the restaurant, on the outdoor patio or if you're host- ing a party, entertain your guests at home with their catering service or in their private dining room that comfortably seats 30. 
Menu Samplings Chef's Favorites
Pecking Duck Half $20 Whole $40
Served with Scallions, Cucumbers, Hoisin Sauce w/four Lotus Buns
Vanilla Prawns $18
Battered and Fried jumbo prawns, topped in a honey cream sauce w/Candied Walnuts and Pickled Cabbage
Half Crispy Duck $20
Five Spice Rubbed, steamed then fried, with Hoisin Sauce w / four Lotus Buns (Bone-in)
Hong Kong Surf and Turf $38
Stir fry Lobster & Beef Tenderloin w / Oyster Sauce
General Tsao's Chicken $12
Dark Meat, panko Breaded, Roasted Dry Chilies, Red Onions, on a bed of broccoli
Buddha's Delight $10 A gluten-free option
Napa Cabbage, Carrots, Mushrooms, Baby Corn, Snow Peas, Broccoli, Tofu, Water Chestnuts
Specials
Hang with Wang Happy Hour: Mon-Fri 3-6 p.m.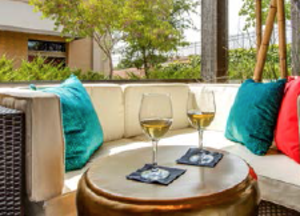 $1 dim sum and hot sake 
$2 draft beers
$3 well drinks
$4 select wines
Lunch + Dinner Delivery available within a 3-mile radius
Curbside Pickup 
To Go Full Service Catering
Previous Page Old Hickory Steak House                                       Next Page Fuzzy's Taco Shop 
For Brio Tuscan Grill click here
For Boi Na Braza click here  
For Fuzzy's Taco Shop click here
For Old Hickory Steakhouse click here 
For Iron 45 at Timarron Country Club click here
For Nothing Bundt Cakes click here
For Nekter Juice Bar click here
For Wildwood Grill click here 
For Fish City Grill click here 
For Winewood Grill click here
For Mi Dia From Scratch click here

For Copeland's click here