Dragons Dominate Midland Lee
Sep 15, 2014 11:42AM ● By Mike
by Robert Halliman
After beginning the season with back-to-back victories by a combined total of four points, Hal Wasson's Southlake Carroll Dragons found some much welcomed breathing room Friday night crushing the Midland Lee Rebels 56-6 in a rematch of last years area playoffs.
In a matchup that saw the Dragons jump out to a 28-6 halftime lead, the ball game never seemed close as Southlake controlled all three phases of the contest from the offset.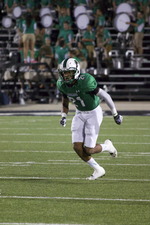 Having focused on a more balanced attack this season, the running game has looked highly impressive the last two weeks, as the offensive line found ways to open up running lanes for the one-two punch of Lil' Jordan Humphrey and Ryan Agnew.   Rushing for a season high 401 yards in the victory, quarterback Ryan Agnew led all rushers with 158 yards on 13 carries and three touchdowns, adding two more scores and 157 yards through the air. Junior Li'l Jordan Humphrey rushed for over 100 yards for the second week in a row totaling 143 yards on just 14 carries. He added a one-yard touchdown surge in the third quarter. Parker Fentriss led a balanced receiving group with 5 receptions while Dragon Pride Player of the Week TariqGordon hauled in the catch of the night—a 61-yard touchdown pass from Agnew. 
"The offensive line is coming along very well, every year it is a process no matter how old or how experienced, so as the season goes on they only get stronger", said quarterback Ryan Agnew.
After surrendering a season high 41 points last week against Tulsa Union, Tim Wasson's defensive unit bounced back with a relentless effort giving up only six points and 21 total passing yards against the Rebels.   The "no fly zone" mantra carried by the Carroll defensive backs seemed to be in full affect as Midland starting quarterback Jon Schwalbach completed only 2 of his 15 pass attempts. The Dragon defense was led by senior middle linebacker Clark Parr, who finished the evening with nine tackles, while senior outside linebacker Joel McClellan finished second on the team with seven. 
With a bye week coming up next week, Carroll seems to be firing on all cylinders as the Dragons have two weeks to prepare for its homecoming meeting against Abilene.
Do you want even more Dragon Pride?  Then sign up for our Dragon Pride FanBlast E-newsletters!