The Shockley Family and Dragon Pride
Sep 18, 2014 10:32AM ● By Dia
Each week during the football season, Ozarka Brand 100% Natural Spring Water celebrates the spirit of Texas Football.
For the Shockleys, Dragon Pride is all in the Family.
There's Dragon pride, and then there's Joan Shockley's Dragon pride. Many Southlake fans will note their longtime Dragon football obsession. Few remember the actual date it began.
Shockley says it began at the start of the 2005 season. She and her family had just moved to Southlake, and "I couldn't help but notice that every single vehicle we saw on the road had a green and black sticker of a Dragon on it. I thought, 'why in the world do all these crazy Texas people have this same sticker on their car?'"
By week three of the young season, Carroll had won two impressive road victories and headed home for their opener at Dragon Stadium. "September 9, 2005 was the first Dragon home game of the season. We watched in awe as the mighty Dragons shut out Plano East 31-0.
"By Sept 10, we were devoted Dragon fans."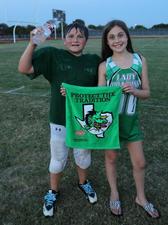 In the blink of an eye, this transplant mom with the lengthy football background had found a home for her family and her allegiance. Son, Alex, signed up for Dragon Youth Football the following year, and loved that the defending state champion Varsity Dragons took time out of their busy schedules to practice with the little Dragon players; tossing the ball, running plays, and autographing jerseys. Not to be outdone, Daughter, Nikoletta, began her love of all things Texas Cheerleading that same season.
It's become an experience for the whole family, and the sense of community is often times overwhelming and uplifting. 
"Every single person we know - neighbors, teachers, coaches, city leaders - gathers in the parking lot of Dragon Stadium hours before kickoff time. The little boys toss footballs around. The Dads grill their best secret BBQ recipes. The little girls practice their Dragon chants with Dragon pom-poms and green and black hair bows the size of Texas. The Moms don their best Dragon 'bling' and make sure everybody has enough to eat. And the excitement of the evening builds. Our kids were hooked from the word GO and my husband… Well, give him a tailgate grill and a bunch of hungry Texas football fans and he is in chef's heaven!"
Does your family share a passion for #TexasTradition? Let us know! Visit www.facebook.com/ozarkawater or tweet to @OzarkaSpringWtr to tell us about your #TexasTradition.