Fun Activities for Kids at Southlake Oktoberfest
Sep 18, 2014 08:24AM ● By Dia
The 13th Annual Southlake Oktoberfest is just around the corner! Three days packed full of German family fun in Southlake Town Square begins Friday, October 3, and wraps up at the end of the day on Sunday, October 5. Bring the kinder (German for children), because this year's festival has endless forms of entertainment for the little ones.
Children will love the variety of activities in the Kid Zone—they can play games, take train rides, jump in the bounce house, get face paintings or brave the towering rock climbing wall. Although the festival as a whole offers free admission, admittance to the Kid Zone requires a wrist band, which may be purchased for $10 at any ticket booth during the event.
Kids of all ages can "get their game on" in the Sports Zone. Football tosses, scooter races, free throw contests, snag golf and athletic tests are a few examples of exciting activities with prizes up for grabs. Just like last year, videogame fanatics will enjoy the GameStop® booth for a virtual gaming fix.
If some children are a bit too young to enjoy the hands-on activities, they may prefer some of the less interactive forms of entertainment. Street performers, including a magician, a juggler, a clown, a flag twirler and a stilt walker will make their way through the festival streets, providing unexpected and comical amusement for all guests.
The musically-inclined kids will appreciate the live entertainment provided at two stages throughout the weekend. Expect to hear a few of last year's favorite performers, such as Micah Blalock, Brave Combo and School of Rock, as well as popular newcomers The Space Rockers, Blue Finger Disco and Back in Black.
And let's not forget about the ever-popular wiener dog events! Kids who love animals will love seeing the wiener dog costume contest followed by the wiener dog races on Saturday morning during the festival.
Adults, be slightly "cooler" in your kids' eyes—make their weekend by bringing them to Oktoberfest Southlake. They might just tell you dankeschön!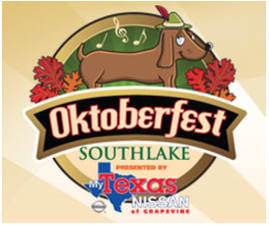 Southlake Oktoberfest is free admission and parking. Hours of operation are Friday 5:00 p.m. to 11:00 p.m., Saturday 10:00 a.m. to 11:00 p.m., and Sunday 12:00 p.m. to 5:00 p.m.

Southlake Oktoberfest is hosted by the Southlake Chamber of Commerce. For more information, call 817-481-8200 or go to www.OktoberfestSouthlake.com.