President Bush Meets with Dragons
Sep 18, 2014 04:19PM ● By Mike
President George W. Bush shakes hands with Carroll Senior High Students at a recent lunch meeting in Southlake.
President George Bush Gets Some Dragon PRide [19 Images]
Click Any Image To Expand
Who has Dragon Pride?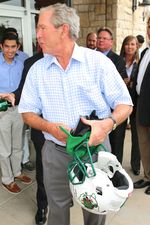 Evidently, President George W. Bush does. He wanted to know a little more about Dragon Nation, so he took time out to meet with a handful of Carroll ISD's best students. They met for lunch today at 
Penn Station East Coast Subs
, Southlake's newest sub shop.
Southlake Mayor John Terrell, CISD administration and about a dozen of Southlake's brightest students representing student council, the debate team, the drill team and more had the chance to meet our 43rd president and ask him questions. Thanks to the owner of Penn Station Subs, David Sherzer, for arranging the impromptu meeting where students shared their future plans and received some words of encouragement and wisdom from the former President.
After lunch was completed Carroll Senior High School Principal Shawn Duhon presented President Bush with a Dragon football helmet signed by each of the attendees.
Search through the gallery to see some of the action.