Saige Movie Premiere
---
---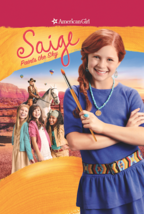 This summer, Saige Copeland,™ American Girl's popular 2013 Girl of the Year, comes to life in a new feature-length movie from Universal Studios Home Entertainment, An American Girl: Saige Paints the Sky. The movie, releasing on DVD and Blu-Ray this July, stars Jane Seymour as the beloved Grandma Mimi and introduces Southlake's own Sidney Fullmer as Saige, a talented artist with a passion for horses, in this modern-day story about finding one's voice.

To celebrate the release, Southlake Style, Forest Park Medical Center Southlake along with The Tommy Pennington Realty Group and Harkins Theatres have partnered with the movie's stars to premiere the film on Monday, July 8, 2013 7:00pm at the Harkins Theatres Southlake 14. Moms, girls and their favorite dolls are invited to attend this special event.
Attendees will be treated to a red carpet style affair, where they will get the opportunity to not only see the movie but also meet and greet Sidney Fullmer and her three co-stars and friends: Alex Peters, Mika Abdalla and Alana Gordillo.  Tickets are on sale now, and event coordinators and Southlake Style Publishers Mike and Nicole Tesoriero have pledged that 100 percent of ticket and raffle proceeds will benefit local children's charities, including the GRACE Feed Our Kids Program.
An American Girl: Saige Paints the Sky - Southlake Premiere Producing Sponsor:

Purchase your tickets today! (will be mailed by June 30, 2013)

VIP Tickets ($25 each): SOLD OUT! 
   * VIP Early Admittance for meet and greet with movie stars.
   * Reserved seating amongst movie stars.
   * VIP American Girl Swag Bag (girls 12 and under)
   * 1 raffle ticket (value $5) - prizes TBD and will include a Saige 2013 American Girl of the Year doll.
General Admission ($10 each) :SOLD OUT! 

   * First 50 girls (12 and under) receive VIP Swag Bag
Additional Raffle Tickets ($5 each)
---
---
See Sidney and friends on Good Morning Texas
---