Trailer Talk: Movie Previews for Jan 31
Jan 31, 2013 02:39PM ● By tina
A romantic-comedy about zombies, Warm Bodies opens this weekend
Harkins Southlake 14 Theatres drags in the zombie romantic comedy, Warm Bodies, this weekend. The movie stars Nicholas Hoult of About a Boy and Teresa Palmer of Take Me Home Tonight as R and Julie- a modern-day refashioning of the classic, Romeo and Juliet.
Unlike your typical zombie flick, Warm Bodies's zombies can see the memories of their victims as they munch on their brains. Julie's boyfriend didn't know what the zombies had in store for him when R and a band of zombies attack, eat his brains and views his memories, R falls in love with Julie, rescuing her from the other zombies.
As their relationship progresses, Julie notices R reverting back to his human ways and coming back to life.  Eventually, Julie decides to head back home to the heavily guarded human fortress where her father, General Grigio, (played by John Malkovich) is the leader and a firm believer that zombies are incapable of evolving back into their human form. Will Julie be able to convince her dad that the zombies are turning back into their old selves or will R die as a zombie in love? Be sure to head to Harkins Southlake 14 Theatres to find out!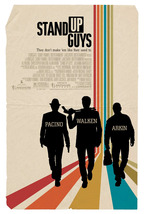 Stand Up Guys also hits the big screen this weekend with some big-time names. Al Pacino, Christopher Walken and Alan Arkin star as three best friends who have been reunited after nearly 30 years and spend the night catching up and creating as much mayhem as they did in their younger days. The only hitch is one of them has been dealt an impossible hand by a former mob boss that puts not only his own life, but the life of one of his best friends on the line.  Head to Harkins Southlake 14 Theatres this weekend to catch this comedy but don't worry, your kids can enjoy a movie and games for them at Harkins' PlayCenter.