The Passion to Paint
Apr 02, 2013 02:22PM ● By tina
Known for landscapes worked in pastels, North Carolina's Greg Barnes is the Featured Artist for the 2013 Art in the Square
2013 Art in the Square's Artist of the Year Greg Barnes is Doing what he Loves
By Catherine Adcock, Deputy Editor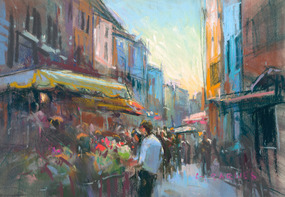 For artist Greg Barnes, the decision to pursue his passion, painting, full-time involved quite a bit faith. A technical and computer-based illustrator by trade, Greg was between jobs when, he took his wife's suggestion — why not make painting your job.  Unsure if he would make enough money to provide for his wife and two children, he relied on his faith to get him through.
"We were collecting unemployment, trying to figure out how to make a living back then," says Greg. "It was a leap of faith, really."
Today, though Greg's striking landscape paintings have landed him accolades and adherents all over the world.
From an early age, Greg displayed talent as an artist. "In my art classes in elementary school, I was always recognized by the teachers and the other students as being the artistic type," he notes. He pursued art in college, studying painting at Wake Forest in North Carolina. Post-graduation, the stresses of real-world living kept Greg from making his art his career, instead taking on a series of jobs that had a creative outlet, but not the kind he needed to fully express himself. "I always enjoyed it but I felt kind of cooped up. I always said that I was an artist in remission," he explains.
Living in North Carolina with his wife and two kids, Greg was looking for work when the events of 9/11 shook him and his family to the core. The New York-born artist and his wife decided the time was right for him to pursue his passion. "She was the one who suggested I become a full-time artists and use the talent that she always recognized that I had to make a living," he recalls.
Greg's first found himself drawn to portraiture. At the urging of members of his church in Charlotte, he began with a portrait of musician Loonis McGlohan, a late member of Greg's church. He had recently passed away, and church congregants including Loonis' widow wanted a special way to remember him by.
"It was a really nice way to start a new career — giving the first roots of it back to our church," he says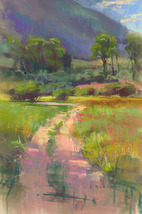 Greg and his wife worked tirelessly to find buyers for Greg's work. Sometimes it seemed like bills would go unpaid, but to hear Greg tell it, God always came through. "It really increased my faith really, because we've come through so many situations where we it didn't look like we weren't going to make it through the month…and money would come through out of nowhere. It's just too much to be a coincidence. I definitely feel like I was called to do this as a profession and that I'm being supported by what I call God."
Greg soon transitioned from portraits to the landscape work he has become known for, being drawn to the medium of pastel, a medium he mostly works in today. He enrolled in classes, studying the form from notable landscape artists Albert Handell and Scott Christensen. "I was spending money on these workshops that I didn't even have, but in the first two workshops I took, other students ended up buying my work. I wasn't trying to sell it, but they would ask if they could buy it. And it was kind of affirmation to me that I was doing the right thing, doing what I was supposed to be doing."
Greg pressed on, advancing his techniques — and the uses of color, light and movement that draws so many fans to his work. "It has to have some kind of energy in it for me, something that feels like there's a dynamic structure to it," Greg says about the scenes he's drawn to.
The question of how to make a living became pressing for Greg and his family. The budding painter turned to art festivals, where he sold his work out in the open. He began locally in Charlotte, but quickly began travelling regionally and nationally. Showing his work in Colorado in 2004, Greg struck upon an unforeseen market of buyers. "I looked at the people I was selling my work to, and it was mostly people from Dallas or Houston — that's what led me to go to Texas."
Greg made plans to show his work in Texas shortly thereafter, making his way to shows like Southlake's Art in the Square sometime in 2006. That his work has found such fans in Texas has left Greg with a feeling of kinship with the state. "I really do feel like the people in Southlake respond to my work more than anywhere else. I'm not just saying that — I really appreciate that, and I always look forward to coming back."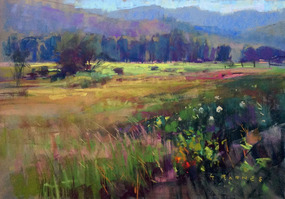 This year, the Southlake Women's Club saw fit to honor Greg and his contributions to painting, naming him its artist of the year. Terri Messing of the Southlake Women's Club says, "Greg Barnes' pastel scenes are full of color, movement and harmony. He was selected as the 2013 artist of the year for his excellence in design, technique and amazing overall effect."
Greg was beside himself at receiving the award. "Being named artist of the year is probably the biggest award I've received at this point — that's a fantastic honor," he says.
Before he was named Artist of the Year, Greg says his biggest honor was a recognition given to him by his fellow artists at the Aspen Plein Air Paint Out this past summer. The Plein Air painting community often attends such gatherings, where scores of plein air (French for open air) artists spend a week or longer on-location painting, then show the work produced in a festival format. At the Aspen Paint Out, notes Greg, "I got the artists'-choice award, which means that all of the artists voted on everybody else's work at the show, and I got the most votes."
As for the future? Well, Greg is just going to keep painting. "I guess I'm most excited about continuing to grow as an artist and travel to new places and meet new people. I'm always excited about that.
"What I believe is that I'll be doing this for the rest of my life and that I'm never going to retire from being an artist. I just see it as an endless road on which I'll continue to improve in my craft. That's what keeps me going."
Culture Club: Art in the Square
For three days, tents will overtake Southlake Town Square, all in the name of art. Ranked the 8th best arts festival in the country, Art in the Square brings renown artists, emerging talent, can't-miss live music and entertainment for the whole family to Southlake on April 26 to 28.
This marks the 14th year the Southlake Women's Club has put on the show, gathering proceeds to benefit a number of area charities. The club has raised a staggering $1.7 million from past events.
During the festival weekend, over 145 artists (selected from the more than 700 who applied) present their work, representing all kinds of media, from painting and sculpture to photography and jewelry. Visitors can take a break from the viewing to snack on tasty concessions while enjoying a live band play from one of two stages. This year's music headliner, country artist Keith Anderson ("I Still Miss You"), takes the stage at 8:30 p.m. on Saturday, April 27. With plenty of kid-friendly activities, you can take the whole family to the event, get cultured and support the community all at the same time. For more information, visit Art in the Square.