The Big Splash
Apr 23, 2013 03:50PM ● By tina
Diving since age 5, senior and two-time Class 5A State Diving Champion Bryce Klein heads to SMU next fall - Photo courtesy of BluDoor Studios
Bryce Klein Dives Into the Record Books
By Greg Ford, Contributing Writer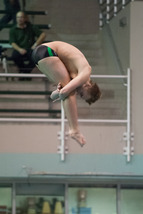 During Southlake Carroll diver Bryce Klein's freshman season, he and diving coach Carolyn Hyrorchuk mapped out a set of goals for him for the next four years.
He planned to set a new cumulative-point record at a state meet – the record of 593.6 was set in 2008 by The Woodlands' Drew Livingston, now diving for the University of Texas.
"I had watched Drew dive at the club level my whole life," says Klein, now a senior. "I had seen how dominant he was. I remember thinking that was a nice goal, but I definitely wasn't good at believing that it would happen — but she was. This year, we sat down and went through all the goals, and the only one we hadn't met yet was breaking that state record."
At the February state meet, Klein, set to dive for SMU next year, hit the water on his last dive. By the time he surfaced, his last high-school goal had been acheived.
"It was in the back of my head, and I tried my best for those last three dives," Klein says. "When I did my last one, and the point total came up, I was incredibly relieved, and also, of course, happy. I was most happy that I had won the meet itself."
Indeed, not only had Klein established a new state point-total record of 622.05, he literally and figuratively blew Livingston's mark out of the water (28.45 diference) as he captured his second individual Class-5A state diving title.  His record breaking point total also played a huge role in the boys swimming and diving team third consecutive state crown.
Those accomplishments are just a small part of Klein's impressive athletic resume, one that includes district, regional, national and international titles.
His career began at the age of 5, when Klein decided to take up diving, in part because his mother, Krista —a former NCAA champion at SMU — coached the local club team, GC Divers.
"She didn't force me to do it. I just figured I was at the pool and might as well do it anyway. It was on from there," Klein says.
He adds, "I've always been competitive, and as soon as the meets started, it inspired me to work harder and harder as the years went on."
That effort and intensity paid off when a 10-year-old Klein won the 11-and-under bracket at a national meet. That victory qualified him for international competition in Calgary, where he faced off against divers from the United States, Canada and Mexico.
Klein won that too, but not before learning a valuable lesson from his mom, who was also his coach at the time.
He'd had a rather tough first day of competition.
"I was trying to take all my practice and get to the meet and then do something greater," Klein recalls. "In trying to do my very best, I ended up making silly mistakes that I didn't usually make. She told me to dive like it was practice, let everything flow and to do what I prepared myself for. I ended up exceeding how well I could dive, because I was trusting preparation instead of trying to push the limits."
It's a lesson Klein says he tried to use at future meets.
"Competing in that setting and winning really helped me in the international competitions I've had since then. It's all been built on that," he says.
Another thing Klein has grappled with during his career is the anxiety many feel about certain dives. That apprehension can occur whether one is doing a multiple-flip dive from a 1-meter board or diving from a 10-meter (over 32 feet) platform.
"A lot of times in my career — this is true with a lot of divers — you get to the point where you are really afraid of a dive, and you get up there doubting yourself," Klein says. "You get weeks, maybe even a month, where you have a mental block. Keeping with your training, and finally breaking through that, translates to life in general. If I had quit the first time I had a mental block, I would have stopped diving at age 8 and none of this would have happened."
That wouldn't have been good news for Hryorhcuk, who has known Klein since he was a youngster and taught him during the fifth and sixth grades. When he showed up at Carroll, Hryorchuk says she was "elated" that he wanted to be part of her team.
 "He's not only dedicated to the athletic part, but also to his academics," the coach says.
Athletically, Hryorchuk said, Klein is an "upper echelon" competitor because of his talent, willingness to listen and make corrections and ability to set goals and acheive them — including the new state point-total record, of course.
"For an athlete to obtain that goal is phenomenal," Hyrorchuk said.
However, before doing all that, Klein had to make the adjustment to high school competition.
"When you are a club diver, your teammates are divers," he said. "In high school, you get experience for the first time of being part of a swim team as well as a diving team."
He added, "My first year, I felt a whole new kind of pressure when I was at the state meet. I was trying to score enough points so that the swimming and diving teams could both win, instead of trying to do my best for my dive team. I felt really, really nervous in that situation, but as the years went on, I became more and more comfortable."
In what might have prompted dejá vu, Klein recently got together with a new coach, this one being SMU's Jim Stillson, and together they drew up a list of goals for his next four years.
Stillson also coached Bryce's mother. Besides being an NCAA champion, Krista Klein — she competed as Krista Wilson — was named the 1991 NCAA Diver of the Year while under Stillson's tutelege.
 "SMU was the best fit for me. Once again, it happens to be a bonus that I have lineage there, and the dive coach is the same one who coached my mom, which is incredible," Bryce Klein says.
One of the goals he and Stillson jotted down was making the 2016 U.S. Olympic team, which will compete in Rio de Janeiro.
"It's been my goal since forever," Klein notes.
It's also one Hryorchuk believes is well within his reach.
"I think the window is open, and I think he will be there," she says. "There are only a handful of kids where you can say, 'That is Olympic material.' They come around so sparsely, and he is one of those athletes you can say is an Olympian because of the qualities that he possesses. You have to have to the whole package, and Bryce has the package."
Photo Credits: BluDoor Studios and Rex Teter Photography