Trailer Talk: Movie Previews for May 10
May 10, 2013 10:16AM ● By tina
Based on the famous novel by F. Scott Fitzgerald, the highly anticipated film The Great Gatsby opens at Harkins Theatres this weekend.
This weekend brings one of the most highly anticipated films of the year, The Great Gatsby, to Harkins Southlake 14 Theatres. Based on the famous novel by F. Scott Fitzgerald, this modern take on the literary classic follows Nick Carraway as he moves from his humble beginnings in the Midwest to New York at the height of the roaring twenties. He moves into a home next door to a party-loving, charismatic millionaire, Jay Gatsby, and across the bay from his cousin, Daisy, and her less than wonderful husband, Tom Buchanan.
Through the lives of his neighbors, Nick observes drama, intrigue, and excitement that only money and power can inspire.  Nick begins to chronicle his encounters with this elite and fascinating group, recording tales of love, betrayal, tragedy and corruption in this dramatic romance. This film is one not to miss! With unbelievable cinematography and elaborate costumes straight out of the 1920's, be sure to check out The Great Gatsby in the Harkins Theatres Cine Capri for the ultimate movie-going experience.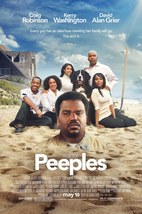 Also premiering this weekend at Harkins Southlake 14 Theatres is the comedy Peeples starring Craig Robinson. Robinson plays Wade Walker, a lovable goofball, trying to prove to his girlfriend's well to do, picture-perfect family, the Peeples, that he deserves her hand in marriage. Wade must deal with crazy situations and hilarious surprises during the Peeples' family reunion but through it all, may find out that there is room for him in the Peeples' family.
If you're looking for a night out with the family, drop children ages 3 through 8 off at the exclusive Harkins in-lobby PlayCenter to be entertained while you enjoy the film of your choice.
For ticket prices and movie times, please visit Harkins Theatre.