Jump Into Summer Fun
Jun 12, 2013 10:34AM ● By tina
Leap into fun this summer at any number of events and activities to enjoy in the DFW area.
19 Ways to Elevate Your Downtime
By Linden Wilson & Catherine Adcock
Summer is here, and lucky for us, the DFW area provides a sky-high amount of both exhilarating and relaxing entertainment. Whether it's bravely leaping out of a plane, sliding down a waterpark chute or ambling through a fascinating museum (just because it's summer doesn't mean the kids can't have fun learning something!), you'll never be in short supply of activities. This month, we've composed our annual list that will make your planning easy and effortless. So, if you'd like to spend a day with the family at the Fort Worth Zoo or among beautiful flowers at the Dallas Arboretum — or if you prefer an adults-only night out at a brewery or outdoor concert — you're in good hands with our guide to summer fun.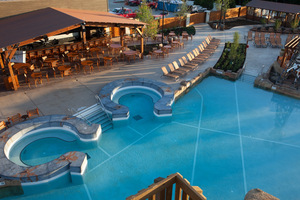 Gaylord Texan
Paradise Springs, the Gaylord Texan's aquatic resort, open daily until Labor Day, features a 600-foot-long lazy river, 6,000-square-foot family lagoon and a 27-foot-tall water slide, ideal for staying cool during the dog days of summer. You can also relax in one of the 1,200 lounge chairs or enjoy a beer and burger poolside while watching the kiddos play in the nearby game pavilion.
Great Wolf Lodge
Grapevine's Great Wolf Lodge offers wet and wild rides that are fun for everyone. Splash your way down Alberta Falls (four stories of twisting and turning toward the plunge pool), hang out in the Raccoon Lagoon, an outdoor pool area with heated water, floor geysers and water basketball, or unwind in the North and South Hot Springs — big warming pools perfect for relaxation.
Hawaiian Falls Waterpark
Get ready to get soaked when you visit Roanoke's Hawaiian Falls Waterpark, where you can find exhilarating rides like Beach Blasters (the world's first dueling inner-tube race), Pipeline Plunge (two 65-foot high, free-fall body slides) and Hawaiian Halfpipe (a twisting, turning shoot with a sudden drop). If you prefer peaceful relaxation, float through the Rainforest River Adventure, a winding lazy river with waterfalls, turtles and frogs. Afterward, hit the strip to experience the self-proclaimed "unique dining capital of Texas," with unique eateries like Brix Pizza & Wine Bar and the Dove Creek Café.
AT&T Performing Arts Center
This year marks the 30th anniversary of one of the most influential and recognized albums in pop and rock history — Sports, by Huey Lewis and The News — and we think there's hardly a better way to spend a summer night than rocking out to the band as they perform June 13 in the heart of the Dallas Arts District. Also keep an eye out for the acclaimed Book of Mormon, opening in August.
Bass Hall
Rufus Wainwright, deemed "the greatest songwriter on the planet" by Elton John, takes the stage June 13 at beautiful Bass Performance Hall in Fort Worth. The Grammy-nominated son of two folk singers, Wainwright will treat you to his soothing vocals and original sound. Another June show you'll want to check out: Broadway's smash musical comedy Sister Act, a performance that's fun for the whole family.
Dallas Arboretum
Summer at the Arboretum kicked off June 1 with Alice's Adventures in Wonderland Flower Village. Through Aug. 1, discover four topiary flower houses in the shade of Pecan Grove portraying the adventures of Alice, White Rabbit, Cheshire Cat and Mad Hatter, and watch as costumed characters bring the story to life during Family Fun Fridays.
Fort Worth Botanic Garden
The oldest botanic garden in Texas, this 11-acre haven is home to more than 2,500 species of native and exotic plants. Spend the day perusing vibrant gardens like the Oval Rose Garden — renovated in January 2012 to include a gazebo surrounded by hundreds of fragrant roses — and the Japanese Garden, a lush 7-acre space containing ponds filled with thousands of Koi.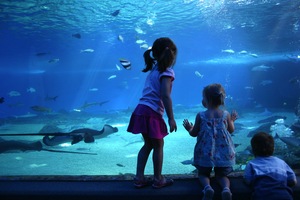 Dallas World Aquarium
Everyone will marvel at the aquarium's 20,000-gallon walk-through tunnel exhibit that houses hundreds of Indo-Pacific fish plus species like the Japanese spider crab (reaching a 13-foot wingspan) and giant Pacific octopus, which can weigh more than 100 pounds. Be sure to also stop by the Mundo Maya exhibit, where bright-colored birds including the ornate hawk-eagle, yellow-green grosbeak and bay-headed tanager can be found perched on lush foliage.
Dallas Zoo
Currently celebrating its 125th year, the Dallas Zoo recently introduced a myriad of interactive activities, including the Safari Express, an entirely electric, trackless train decorated with animal graphics that winds its way around the new Picnic Ridge area. Also visit the Wildlife Encounters Stage, where you can get up close and personal with animals like an African serval cat and African-crested porcupine.
Fort Worth Zoo
Kids won't be able to resist the cuteness of the Fort Worth Zoo's newest resident Asha, an endangered greater one-horned rhinoceros, who celebrates her first birthday in August. In addition to animal exhibits, you can also scale to the top of Tasmanian Tower (a 25-foot rock-climbing wall), take a spin on the zoo's Western-style carousel or play an interactive laser target game in the Wild West Shooting Gallery.
Fossil Rim Wildlife Center
From familiar animals like ostriches and giraffes to more exotic aoudads and Hartmann's mountain zebras, Fossil Rim houses a unique collection of species that will be out and about during summer safari tours. Let knowledgeable guides take you through a scenic wildlife drive full of picturesque vistas on the center's expansive 1,700 acres.
Dinosaur Valley State Park
This Glen Rose–area park contains some of the best preserved dinosaur tracks in the world as well as two fiberglass models — a 70-foot Apatosaurus and a 45-foot Tyrannosaurus Rex. During your visit, explore the 100-acre area where you can camp, picnic, bike, fish, swim and ride horses along the riverbank. Nature hikes — including those after dark — take place throughout June and July.
Nasher Sculpture Center
Kids will love Berlin-based artist Katharina Grosse's large, colorful and architecturally inspiring wall paintings that she spray paints, taking inspiration from elements including abstract impressionism and urban graffiti. The exhibit, titled Wunderblock, opened June 1 and will be open until Sept. 1. Also at the center this summer: Target First Saturdays, where preschool- to elementary-age children can unleash their artistic sides on the first Saturday of each month with activities like mask painting and an art scavenger hunt (all free of charge).
Perot Museum of Nature and Science
Since it opened in December, the Perot Museum has welcomed throngs of visitors eager to explore the 11 permanent exhibit halls featuring gems and minerals, a history of bird adaptation, rare dinosaur fossils, oil and drilling displays and a 2,200-square-foot hall dedicated to increasing our understanding of the universe. Don't miss the interactive sports section, where kids will love racing cheetahs, dinos and famous athletes like Cowboy Felix Jones.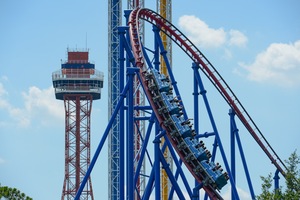 Six Flags Over Texas
Nestled in our own backyard, this legendary theme park opened a new ride this spring: the Texas SkyScreamer, the world's tallest swing-ride. Towering 400 feet above the ground, the behemoth straps you into an open-air seat and swings you in a 124-wide circle at 35 mph above the park. Take a ride at night to see the swing illuminated. Word to the wise: Don't open your eyes.
SkyDive Dallas
Take your summer fun to whole new heights — literally — with a family dive from 13,500 feet up in the air. Whether tandem or solo, SkyDive Dallas knows how to make your first jump one you'll never forget. At North Texas' premier skydiving center, you'll believe you can fly (for about 60 seconds going 120 mph!)
Patronize a Local Brewery
North Texas is awash in hops and barley, producing plenty of premium brews all its own. We love the offerings of Rahr in Fort Worth (tours Wednesday and Saturday) and Dallas' Deep Ellum Brewery (Thursday, 7:30 to 9:30 p.m. and Saturday (2 to 3 p.m.). Not enough beer to boast about? Try these brewers, like Lakewood (Saturday, 10 a.m. to 3 p.m.) and Peticolas (First and Third Saturdays, 1 to 3 p.m.).
Thursday Night Live at the Dallas Museum of Art
All over the Metroplex, major cultural institutions offer late-night options geared toward grownups. At First Fridays at the Fort Worth Modern (5 p.m.) and After Hours at the Kimbell (every second Saturday from 5:30 p.m. to 7:30 p.m.), you can find art, cocktails and music.  Our top pick goes to Thursday Night Live at the Dallas Museum of Art where every Thursday from 5 to 9 p.m., patrons enjoy jazz, cocktails, dinner and artful conversation.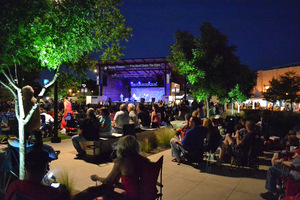 Levitt Pavilion Music Under the Stars
Throw on your favorite vintage rock tee and head out Levitt Pavilion, which hosts local and national acts all summer long. This community-oriented venue boasts 50 free concerts every year and draws bands from local indie darlings to popular national acts.  Shows are general admission with lawn seating available. Concertgoers can feel free to bring blankets, lawn chairs, coolers and alcoholic beverages and make a picnic out of the show. Admission is free, but attendees are encouraged to donate at the door.