Trailer Talk - July 3
Jul 02, 2013 11:35AM ● By tina
Despicable Me 2 starring Steve Carell as Gru is back with more outrageous characters including the minions and the girls.
Two of the most anticipated films of the summer premiere this weekend at Harkins Southlake 14 Theatres, Despicable Me 2 and The Lone Ranger.
Despicable Me 2 brings back the former super villain Gru, his adorable daughters and the mischievous minions on a new adventure. Gru is no longer considered a bad guy after adopting his three beloved girls, Margo, Edith and Agnes. Gru is surprised when he is unexpectedly recruited by the Anti-Villain League to help deal with the most sinister evildoer yet, Eduardo.
The Anti-Villain League believes Gru's inside knowledge into how a villain's mind works could be the key for capturing Eduardo. Bring the whole family to visit Harkins Theatres this weekend to see what new exploits Gru, his girls and the minions get into this time, and don't forget your Loyalty T-shirt for free medium popcorn and your Loyalty Cup for $1.50 refills!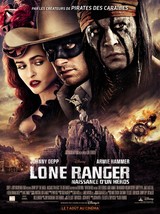 The Lone Ranger also premieres at Harkins Theatres this weekend. This exciting adventure stars Johnny Depp and Armie Hammer as Spirit warrior Tonto and the Lone Ranger. Tonto shares recollections of the old adventures that transformed lawman and hero, John Reid, into the Lone Ranger. The Lone Ranger takes the audience on a thrilling ride of runaway trains, explosions and surprises as this daring duo overcome their differences to defeat greed and corruption in the old West.
For families with young children, check out Harkins Theatres exclusive, in-lobby childcare at the PlayCenter. Finger-printed, background checked professionals watch children as parents enjoy the films of their choice!
For more information on tickets and show times, please visit Harkins Theatres.