The Making of a Star
Jul 09, 2013 10:08AM ● By tina
Southlake's own American Girl, Sidney Fullmer.
Sidney Fullmer Brings American Girl Saige Copeland to Life

By Linden Wilson, Assistant Editor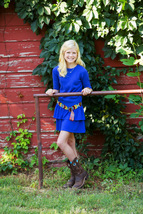 Four years ago, Sidney Fullmer only wanted one thing for her 9th birthday: an American Girl doll. Her parents, Jeff and Allison, drove her to the Galleria Dallas, a short drive from their home in Southlake, so she could pick out her birthday gift. After careful consideration, Sidney selected strawberry blond, blue-eyed Emily, a doll from the 1940s, before the family enjoyed a birthday lunch at the American Girl Bistro. Little did they know that later, in a bustling shopping mall on a scorching day in June, unassuming Sidney would come face-to-face with an opportunity that would change her life.

A Stroke of Luck
"There's a television and film acting workshop this weekend, and we'd really like for you to come and audition." The words of a complete stranger who approached Sidney at the Galleria are often associated with what can usually be considered cliché: A girl gets approached in a mall by a talent scout searching for young models or actresses, but the story ends quickly when dreams are dashed — after all, the chance of making it is one in a million. Allison, a firm believer in exploring everything that falls into your lap, chose to investigate the invitation, despite the odds.
"It was kind of a big cattle call," she says. "About 350 kids showed up, but after Sidney did her little spill, they asked her to come back the next day." After two more callbacks — one that involved doing a special workshop with an actor from Disney's then-hit show The Suite Life of Zack and Cody — Sidney was chosen as one of three Dallas-area kids invited to Los Angeles for a five-week summer camp run by various industry professionals including casting directors, agents and coaches as well as several Disney stars. The Fullmers packed up their car and their kids — Sidney plus her three younger brothers, one of whom was only two months old at the time — and hit the road for Hollywood. Although this particular adventure ended after the camp concluded, Sidney's eyes had been opened to a whole new world.
"By the time we came back, she was hooked," Allison says. "She loves a challenge, she's a perfectionist, and she's an old soul, which are three really great qualities for an actor." Recognizing that her daughter had talent and passion for the craft, Allison signed her up to take acting lessons from Cathryn Sullivan, a Lewisville-based coach who has trained stars including Selena Gomez, Demi Lovato and Cody Linley. As their schedules permitted, Allison drove Sidney to two-hour classes at Cathryn's studios once a week for three years, and auditioning for various projects was soon part of her regular routine.
"She's so adorable with so much talent, which is an irresistible combination," Cathryn says.
An American Girl Audition
With several years of acting experience under her belt, Sidney became familiar with the rejection that usually comes after auditions, although she remained resilient and taught herself to not let it faze her.
"Once I do an audition, I forget about it because there's one chance in a million that I'll actually get the role," she says. "I love acting so much, so it's just fun to be able to try."
In the summer of 2012, three years after she received her first American Girl doll, 12-year-old Sidney's chance finally arrived. In late August of that year, auditions were held for An American Girl: Saige Paints the Sky, a direct-to-video release about a young girl with a passion for art and horses. It's the latest in a line of successful American Girl films, following popular TV movies An American Girl Holiday (starring Anna Sophia Robb) and An American Girl Adventure (starring Shailene Woodley) as well as the theatrical release of Kit Kittredge: An American Girl, which starred Abigail Breslin. Sidney recorded an audition tape to send to L.A.
"I first auditioned for Tessa, Saige's best friend, because she's blond," Sidney says. "But after I mailed in my tape, the studio called and asked me to audition for Saige." After making sure Sidney could ride a horse and was willing to dye her blond locks red, the studio immediately flew the young actress and her mom to L.A. for a chemistry mix-and-match with 15 other kids.
"Sidney was ecstatic, over the moon," Allison recalls. "The parent is not part of the process, so I just sat in another room and read my book while the studio tried to find a good foursome. They kept her back there for about five hours, so I had a really good feeling." That evening, mother and daughter made their way back to Texas, and as soon as the plane touched down, they received the phone call they'd both been waiting for.
"This is her dream," Allison adds. "She was just so excited. It's something that you can be proud of and show your kids. It's just a wonderful family movie and the best first project you can ask for."
Eventful on Set
One week after discovering she'd landed the lead role, Sidney and Allison flew to Arizona for horse-training lessons and New Mexico for painting lessons, where a man named Pedro taught Sidney the art of the paintbrush.
"My mom even joined in," she says. "It was a great bonding experience. Pedro had this really neat, open adobe studio that was out in these fields in the middle of nowhere." After a quick stop back in Dallas — Sidney, missing one of her back teeth, had to get fitted for a flipper to fake a full set — the pair headed to Canada, where Sidney had her light blond hair dyed auburn red and received flowing extensions. It was also in Canada where the first three weeks of filming began in September (followed by three weeks back in the Southwest) — and where Sidney's nerves kicked in.
"It was crazy," she says. "The first scene had like 200 extras. It was my first time to ever be on camera, I had 200 people watching me, and I had this big paragraph I had to say. I was very scared, but I got through it, and it was so fun." After making it through her first big scene, Sidney quickly adjusted to life on set and, with the help of one of her costars, created some fun of her own. She and Alex Peters, who plays the role of Tessa, bought fart machines online to play pranks on several film crewmembers.
"During lunch break, we set one up under the dessert table, and every time someone reached to get a dessert, we pressed a remote," Sidney says. "It was so funny. I also put it under the director's chair and pressed it. We had so much fun." She even used a secret language to communicate with her costars on set about their next tricks.
"It's called Haywire," Sidney explains. "My mom made it up when she was little. She taught it to me, so I taught it to the three other girls. We always had microphones on us, so we'd use Haywire to talk about what we were going to do next. All the hair and makeup people would be like, 'What?'" Yet along with the fun memories she made, Sidney also recalls an on-set experience that scared her to death. The horse she first trained with in Arizona didn't have the right coloring for the movie, so a new horse, 1-year-old Sharky, came in as a replacement. Unaccustomed to the crowds of extras gathered for a parade scene, the young stallion got spooked, bucking Sidney while she tried to hold on.
"I remember my heart beating so fast," she says. "I didn't know what to do. I tried to tell him to stop by grabbing the reins, but he wouldn't. He rode all the way to where our trailers were and started slamming into them. The stunt coordinator ran up, held out his arms and told me to jump, so I did. He caught me by the leg and dragged me off. It was terrifying." The film's director was so nerve-wracked he became emotional, and when Sidney had to get back on Sharky to film the scene, he made sure four stunt coordinators surrounded her to prevent another incident.
Of the movie's 21 scenes, Sidney appears in 20. Many included acting legend Jane Seymour, who plays her grandmother, Mimi, and whom Sidney quickly bonded with during the course of filming.
"She was awesome and so sweet," Sidney says. "We had so much fun together." The pair usually wrapped a day's filming at the same time, so they would talk to each other on the way home, covering topics like Jane's passion for painting and her Open Hearts Foundation.
"Jane loved her," Allison says. "She really took Sidney under her wing and gave her all sorts of advice. They still keep in touch." One of Sidney's favorite scenes to film was a touching one with her TV dad Kerr Smith (of Dawson's Creek fame) in a hot-air balloon because it allowed her to evoke poignant memories of a close family member.
"My character was going through a lot of stuff, so she was really emotional all the time," she says. "I had a lot of crying scenes. That summer, my grandpa got diagnosed with lung cancer, so I would think about that, and it would just bring me right to the moment. He passed away three days before we ended shooting, but my mom and the director didn't tell me until after we wrapped. I feel like the last few days, my grandpa couldn't see me from where he was in Utah, but he got to see me from heaven."
The last day of shooting in October brought many tearful goodbyes, but Sidney has plenty of photos and mementos to remember her time as an American Girl — everything from paintbrushes and palettes to New Mexico trinkets like a ristra (chili-pepper strings) to hang in her room. The film's costume designer also mailed her Saige's clothes, including a red fringe jacket with a horse pattern she enjoys having as a keepsake.
"I love the people I worked with because we were all a family," Sidney says. "I was with them for 12 hours a day for six weeks. We played pranks on one another, laughed and had so much fun but also worked hard together. It was a blast to meet so many cool people."
Post-Saige
Sidney, who celebrated her 13th birthday in June, has used her newfound fame to help many others, from appearances at birthday parties to Saige Paints the Sky book signings to hospital visits for sick children who love American Girl dolls. Three years ago, Sidney started her own charity called Kindness for Kids with Cancer in honor of her aunt who was diagnosed with the disease. She's raised thousands of dollars through lemonade stands, bake sales, Relay for Life teams and by putting jars in classrooms when she attended Eubanks Intermediate School. She's kept every cent and will be able to get her charity accredited when she turns 14. Sidney also waited a long time for something she recently received as a present for completing her first movie project.
"She loves dogs," Allison says. "She's wanted one since she was 2, but I've always been scared of them. We tried hamsters, rats and fish, but Sidney was relentless. When she was 9, she had just started acting, so my husband and I told her if she ever booked a movie, she could get a dog, because we thought it would never happen." When they were in Canada, Sidney reminded her mom of the promise.
"We waited forever to find the right one," Sidney says. "I wanted a red dog to match my hair in honor of the movie. I did finally get her — she's a cockapoo, and she's just so little and sweet. I had to name her Saige."