Trailer Talk: Movie Previews for July 15
Jul 15, 2013 01:49PM ● By tina
Showing this week in Harkins Southlake 14 Theatres is the comedy Grown Ups 2 and action thriller Pacific Rim.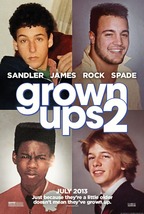 Grown Ups 2 is the hilarious sequel to 2010's Grown Ups. Adam Sandler, Kevin James, Chris Rock and David Spade return to Sandler's hometown just in time for their kids' last day of school. This time around, the kids have some lessons to teach these dads as shenanigans ensue. From old bullies to new bullies, crazy cops and out-of-control party animals, Growns Up 2 is better than the original! Head to Harkins Theatres to check it out.
Also premiering is the action thriller Pacific Rim. If you love robots and monsters, then this is the film for you! "Pacific Rim" is the action-packed alien apocalypse movie from acclaimed director Guillermo del Toro. When Godzilla-like villains threaten the Earth's existence, human heroes create giant robots to combat the extraterrestrials on a more even playing field. 
This film is playing in Harkins' premiere theatre, the Cine Capri, which has recently upgraded its sound to Dolby Atmos Audio System. Dolby Atmos is a revolutionary new audio platform that immerses the moviegoer into each scene with 3D like experience for the ears. With the addition of speakers around and above moviegoers, along with control of individual speakers rather than a blended array of speakers, Dolby Atmos allows object-based movement above and around the audience. 
For more information on movie times and ticket prices, please visit Harkins Theatres.