Trailer Talk - July 19
Jul 19, 2013 10:45AM ● By tina
Turbo tells the story of a small snail with big dreams of living life in the fast lane.
This week at Harkins Southlake 14 Theatres, films with unlikely heroes take center stage with the premieres of Turbo and R.I.P.D.
Turbo tells the story of a small snail with big dreams. Turbo doesn't fit in so well with his friends and family because he longs for a life of speed where most of his fellow snails are more than happy to live life at- well, a snail's pace. After a freak accident fuses his molecular structure with nitrous oxide from wild trip on a drag race car, Turbo's dream comes true, allowing him to travel up to 200 miles per hour 
As Turbo struggles to adjust to his new powers, he and his brother Chet are discovered by a California taco stand owner, Tito, who organizes snail races on the side. Tito takes Chet and Turbo to Starlight Plaza, where the fastest snails in town compete. Turbo is introduced to some new friends who help teach him the ropes of the track. Turbo's alongside his new friends and family, he strives to achieve more than he ever imagined. This is a great film for the whole family to enjoy so load up the car and bring your Harkins Theatres Loyalty items this weekend to cheer Turbo on!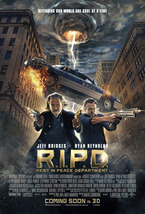 Another film premiering this weekend is the adventure comedy R.I.P.D.: Rest In Peace Department. After hotshot detective Nick Walker is killed in the line of duty, he is recruited in the afterlife by the Rest In Peace Department to help protect the living from evil souls who have escaped judgment. Shortly after joining the supernatural police force, Nick is introduced is his new partner, Roy Pulsifer, a veteran sheriff with a special talent for being able to spot bad guys in disguise. Just as Nick and Roy are getting accustomed with their new partnership, they must face a menace that threatens the balance between the physical and supernatural worlds, potentially flooding the Earth with angry lost souls.
This movie is not appropriate for young children so take advantage of Harkins Theatres exclusive, in-lobby PlayCenter. Children ages 3 through 8 can enjoy books, toys, games and of course, movies in a supervised, engaging environment by fingerprinted and background checked professionals. At only $6 per child, it's a deal. Walk-ups are welcome and reservations are recommended.
For more information on movie times, tickets prices and Harkins' exclusive amenities, please visit Harkins Theatres
.