First Day of School
Aug 27, 2013 04:36PM ● By tina
The new student resource officers hope to provide a safer school system in Southlake.
City View by John Terrell, Mayor of Southlake

The first day of school is here. It's a time filled with new experiences, new books, new backpacks, new teachers, new friends and this year, something extra — school resource officers (SROs) in every Carroll school. For many years, SROs have been a part of life in Southlake's middle and high schools. This year, they will join the Carroll ISD intermediate and elementary schools. Many of you might remember the decision earlier this year to enhance the safety and security of CISD schools by adding an SRO to every campus by the beginning of the 2013–2014 school year. It was a tall order, but given the strong teamwork of the Southlake Police Department, the city's Human Resource Department and Carroll ISD, I know we have hired the right people for the job.
Any hiring process takes time, but when you hire a police officer, the process becomes even lengthier and more in depth. Southlake Police Chief Stephen Mylett was specific in what he wanted to see in his officers: men and women with varied backgrounds who would provide a safer school system for Southlake; officers who have enough experience to be designated as advanced-certified by the Texas Commission on Law Enforcement Standards and Education (TCLEOSE); and people who have a heart for students and their families. I am happy to report we have found those people. Here is the SRO team that will kick off this school year:
School Resource Officer Sergeant
Sgt. Randy Baker
Full-Time SROs
Officer Alan Smith
Officer Bret Wilson
Officer Blas Hernandez
School-Year SROs
Officer Ken West
Officer Art Litke
Officer Cheryl Womack
Officer Frank LaGrassa
Officer Richard Gallaway
Officer Matthew Petrie
Officer Robert Slusser
This fine group of officers will have a big impact on our schools and our community and make deep and long-lasting connections with Carroll students and their families. Some of them have been with the Southlake Police Department for many years; others are continuing in their current roles as mentors in the high schools and middle schools. Still others come to us with years of experience in other cities that have helped make them leaders and great examples for our children who are learning life fundamentals at home and at school.
Nationally, the repercussions of what happened in Newtown, Conn., are still being felt. Here in Southlake, we have made the decision to try something I believe will give students and families an additional resource to learn how to deal with our ever-changing society. Our children live in a different world than many of us remember growing up in, and we as parents and community leaders have to change with it. We need to challenge what worked in the past and work together to find new ways to support our kids to get through the issues that present themselves. Bullying, drug and alcohol abuse, alienation, academic and athletic stress are issues we have previously faced, but now we've got a team of people who are not only charged with helping keep our kids safe but will also serve as extra sets of eyes when needed.
I am excited for what's to come this school year. I look forward to hearing about all of the successes, big and small, that are sure to be part of the 2013–14 story, and I hope you'll join me when I say to all of the students, teachers, school administrators and SROs: Have a great school year! 
See you in Southlake.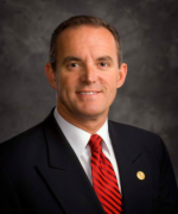 John Terrell, vice president of commercial development for DFW Airport, has spent countless volunteer hours in service to the City of Southlake.  He served two terms on the city council prior to becoming elected Southlake's Mayor in 2009 and again in 2012.  Married to wife Joanne and father to two Dragons, the 2012 Southlake Citizen of the Year has called Southlake home for more than 15 years.