First on the Scene
Nov 19, 2013 01:42PM ● By tina
New DPS Facility to Improve Emergency Response Services for all of Southlake
By Catherine Adcock, Deputy Editor
If you've ever called 911 during an emergency, you know: seconds can feel like minutes and minutes like hours. When time is of the essence, Southlake's critical response teams do everything they can to be on the scene immediately — and their efforts are about to get a big boost.
This November, Southlake's new $16.6 million DPS North opens after 16 months of construction. In addition to classrooms, a firing range and a clinic, the 37,000-square-foot facility, located at 100 E. Dove St., will host a fire ladder company with four firefighters on each shift to cover the north end of Southlake. It is expected to cut emergency response times to north Southlake by several minutes.
"Currently, our response times are about ten minutes to north Southlake," says Fire Chief Michael Starr. "We're looking at reducing our response times once that facility opens to about four or five minutes."
Starr notes that those few minutes can make the difference between life and death. During cardiac arrest, brain death occurs between four and six minutes. "It's critical. The sooner we can get there, the better chance for survival," he says.
When it comes to fires, flashover — when objects inside a room are heated to the point of spontaneously combusting — can occur as early as three-to-four minutes after a fire has started. Once flashover occurs, the chances of survival for firefighters and civilians are slim to none.
Currently, customers in north Southlake are served by the fire department headquarters on 600 State St. A second fire company is housed in west Southlake. The city had planned for three fire stations, ultimately approving construction on DPS North in May 2010. The facility was funded by the Crime Prevention and Control District, a half-cent sales tax on purchases made in Southlake.
Police Chief Stephen Mylett says the decrease in response times could have a benefit to Southlake citizens in a reduction of homeowner's insurance costs.
"Adding that station is giving us an opportunity to go through another ISO evaluation in anticipation of lowering the insurance ratings for all the citizens of Southlake," he says. "The current rating is a four, but we're projecting to be rated at a two — which will bring insurance savings for our citizens."
However, local All State insurance agent, Mark Jameson, warns that the reduction could be negligible. "There would be a slight difference, but not every citizen would realize that decline," he says. "It's difficult to predict as there are so many variables that an insurance company uses to determine ratings."
In addition to its emergency response facilities, DPS North will also house a regional training facility, expected to draw first responders from around the region.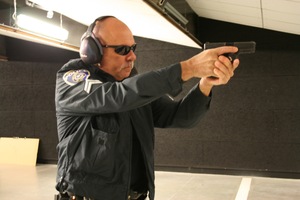 The one-story main building will house three training classrooms and a large auditorium. Another building will house an underground firing range with 25-yard ranges for pistols, 50-yard ranges for rifles and the ability to pull in a vehicle police officers can train in real-life scenarios like shooting from cover.
According to Mylett, the opening of DPS North ensures law enforcement officers in Southlake will receive the best training available.  
"The training facility will allow us to attract and host quality training programs which will not only benefit our employees but our regional law enforcement partners as well," he says. "The large classrooms and high capacity auditorium will provide us opportunities to train our officers and civilian staff as never before. The firearms range is a state-of-the-art facility that will allow us to develop innovative training which will depict realistic live scenarios."
Currently, Southlake law and emergency response officers must travel outside of the city to train, which reduces the resources available to citizens and costs money.
"We're hoping to make this facility a regional training center and bring those classes to Southlake and keep our personnel within our city and available," Starr says. Mylett adds, "Currently, we are dependent on other agencies to provide range time for our officers and that time comes with a financial cost."
With the best classes and amenities available for training officers, DPS North will likely become a hub for training in the region, increasing revenue and offsetting some of the cost.
"Being able to bring those classes here should save us some money, if not enhance revenue, instead of sending people out of the city," Starr says.
The operating cost of the facility is expected to be about $200,000 with an additional $1 million to be paid in salaries annually. Twelve people will staff the fire station, which will bring the number of firefighters in Southlake to 63.