Local Flavor - Stampede 66, Silver Spoon
Jan 08, 2014 09:17AM ● By Anonymous
James A. Reid


Stampede 66
Stephan Pyles has long been a fixture on the Dallas dining scene, having opened 18 restaurants since his first, Routh Street Café, in 1983. His most recent, Stampede 66, represents his fond childhood memories of working in the Phillips 66 truck stop owned by his parents near the West Texas town of Big Spring.
Stampede 66 represents what Pyles bills as modern Texas cuisine in an environment that offers the diner a dazzling experience that represents Texas dining with flair.
We arrived outside a gleaming office tower near the southern end of McKinney Ave., but once we walked through the door, we were transported into small-town Texas life.  Framed "windows" (actually flat panel televisions) showed ranch hands rounding up cattle as if you were gazing out of the bunkhouse. As our gaze swept across the room, we saw a wall branded with the names of small Texas towns and then noticed the 20 or so longhorns hanging in formation above the expansive margarita and taco bar.
Finally, we were seated below a steel and wood tree beneath a Texas sky that changes from daytime to nighttime over the course of an evening. Within view were flat panels throughout the restaurant exhibiting humorous quotes from notable Texans.
The menu was developed using ingredients sourced from the Lone Star State, and the dishes reflect the best of Texas cuisine with a gourmet twist. For this visit (our fourth in as many months), we chose to start with the pickled and deviled eggs ($8) with the surprise kick of house-made jalapeño pop rocks. Yes, just like the pop rocks you might have had as a kid, and yes, they really do make the dish "pop."
Next, we sampled the crunchy cornmeal-encased, juicy, fried green tomatoes ($14) that perfectly intermingled with the subtle flavor of smoked Mozzarella cheese, making this a huge hit with all four diners.
Main course selections were very diverse and reflected some of the better-known items on the menu. There was the enormous chicken-fried buffalo steak ($21) lying on top of chorizo gravy and mashed potatoes — we wished for more of the gravy to cover each bite of tender, moist buffalo meat. The perfectly battered and cooked honey-fried chicken ($18) is among the best in Dallas with a sweet and savory outer coating that flavors each bite of tender chicken. The wood-grilled ribeye ($42) was a huge chunk of aged Texas beef, seasoned and grilled to perfection, rivaling those from pure steakhouses. The fourth main course item was pulled from the tacos menu — two flour tortillas filled with Waygu beef and Oaxacan cheese ($12) that, unlike the other choices, seemed ordinary rather than unique.
Full but fighting through the pain, we chose an item from the sweets menu. We landed on pumpkin pecan pie topped with maple marshmallow ice cream ($8), combining two favored holiday pies in one. Don't miss out on this, as it is sure to bring back memories of holidays past.
Stampede 66 is the perfect place to bring someone who's not from Texas or even Dallas to experience the best of gourmet Lone Star cuisine or to celebrate a special occasion.
Stampede 66
1717 McKinney Ave., Ste. 100, Dallas
214-550-6966
Stampede66.com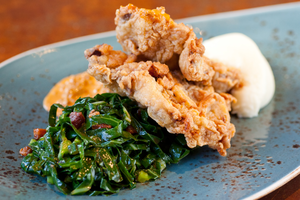 Silver Spoon Café & Bakery
A Southlake staple since it opened in the summer of 2012, Silver Spoon got our attention as a couple of ladies who lunch, eager to sample something delicious we'd yet to try. A plush pink oasis replete with chandeliers made of silver spoons, the café's interior evokes memories of a time when a leisurely midday meal was commonplace and involved a healthy yet hearty spread of soups, salads and sandwiches plus fresh iced tea and a sweet treat. It's easy to see why the Silver Spoon's made-from-scratch menu continues to attract customers — we recommend the tomato and mozzarella sandwich on focaccia or the quiche of the day. For dessert, you can't go wrong with a snickerdoodle cookie or succulent lemon square, although you'll probably have to visit the bakery a dozen times in order to sample each offering in the restaurant's collection of goodies.
Owners Bill and Barbara Harris, who formerly ran Dallas-based Celebrity Café, have four decades of restaurant experience, proving they know their stuff. Using only USDA-choice meats like turkey breast roasted fresh daily and all-natural, hormone-free chicken, they prepare every item, from the famous grilled Monte Cristo to the Texas Caesar salad, with only the best ingredients. Offering the finest in classic comfort foods whose recipes originated in Barbara's kitchen, Silver Spoon is truly one-of-a-kind. 
Silver Spoon Café & Bakery
621 E. Southlake Blvd., Ste. 100
817-442-9112
SilverSpoonCafeBakery.com

Note: At the end of December, Silver Spoon shut its doors and closed down its establishment.