Breakaway This Wave Season
Jan 17, 2014 12:05PM ● By Anonymous
By Brook Bramley


Since the cruise industry's Wave Season is in full swing, there isn't a better time to consider a cruise vacation to reconnect with loved ones. Wave Season is a peak-booking period for cruise travelers each year and takes place between January and March. This year is especially exciting because of a slew of brand new ships that were launched over the past couple of years —meaning guests have more choices than ever before. Recently, I had the pleasure of attending the inaugural sailing of the Norwegian Breakaway cruise ship in New York City. This was a great opportunity to preview the new ship, experience and enjoy all the activities options on board. 

I am most definitely a "foodie," so I was looking forward to the specialty dining options onboard. In total there are 29 dining venues and 22 bars and lounges.  Being a Food Network fan, I was especially excited to see Carlo's Bakery onboard. The Cake Boss himself, Buddy Valastro, was on the sailing with us. As a result, we met the popular chef and sampled his now world-famous lobster tails and cannolis, which were simply amazing! 

Food Network's Iron Chef Geoffrey Zakarian was also onboard. He has designed a seafood restaurant for the ship called Ocean Blue, which was a hit and was fully booked during the sailing. Le Bistro is another popular restaurant onboard; serving a French menu that includes all the classics. I enjoyed escargots followed by beef tenderloin and ended my decadent meal with a warm apple tart for dessert. 
Another popular foodie option is Shanghai's Noodle Bar, located next to the casino on deck 7. Many additional restaurants and bars can be found along The Waterfront, an oceanfront promenade where you can take a stroll and look out over the beautiful ocean.

There is surely something for everyone and cruisers will come away with many favorite-dining experiences. 
Besides all the fabulous dining choices, there was plenty of top rate entertainment on board.  Some of the choices included the famous Rock of Ages musical, Cirque Dreams & Dinner Jungle Fantasy, and Fat Cats Jazz & Blues Club where we enjoyed live music performed by talented jazz and blues musicians.  There was even a comedy club, The Second City, which performed various versions of its hilarious act while we were onboard.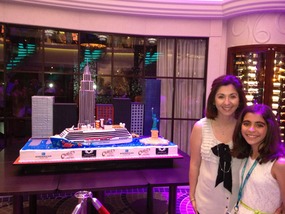 For those seeking adventure, there is a ropes course complete with a zip line, as well as an Aqua Park with some serious adrenaline pumping slides.  Anyone who loves roller coasters will surely enjoy these! 

As if there aren't enough reasons to consider this amazing ship for your next cruise, it was also named 'Best New Ship' by Cruise Critic editors. The Breakaway holds 3,969 passengers and is the largest ship to home port in New York City. It will sail to Bermuda on seven-day itineraries in the spring and summer. The ship will then to the Bahamas and Florida in the fall and winter months.
If you are interested in all that the Norwegian Breakaway offers, you will be delighted to learn that Norwegian is rolling out the sister ship to the Breakaway in February in 2014! The Getaway will be nearly identical to the Breakaway. Her homeport will be in Miami, offering seven-day Eastern Caribbean sailings.
With two amazing itineraries to choose from, these state of the art vessels offer the best options in cruising today.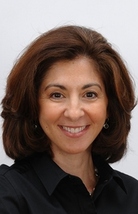 Brook Bramley is the owner of TripBoutiq (www.TripBoutiq.com), a boutique travel company specializing in family vacations, cruises, and custom Europe itineraries.