Return of the Hatch
Aug 07, 2014 11:51AM ● By Mike
At Central Market Southlake - Hatch chile peppers are a welcomed tradition.
Not only are the Hatch chiles at Central Market Southlake packed with flavor, but after years of Hatch festivals under their belt, Central Market Hatch chiles are packed with tradition.
"It's all about tradition," said Southlake Central Market General Manager Paul Harty. "Our customers have acquired a taste for [Hatch chiles], and they have become a necessary part of their summer. When August rolls around they know it's time for the Hatch Chile Festival – it's a seasonal, traditional thing."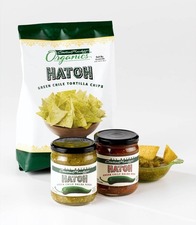 In "Hail to the Hatch" we learned, Hatch chiles are named for their whereabouts – they come from the village of Hatch in New Mexico. Tradition comes from the fact that Central Market has used the same farmer for the past 20 years they've hosted the festival. Not only does it stand to reason these particular Hatch chiles must be the best, but with that many years of farming behind them, you know it is a perfected art.  
Central Market is known for its culinary expertise and conveying this knowledge to customers. After all, they want you to take home the freshest ingredients to customize and make a dish your own. It's no different with the Hatch Festival! They provide the roasted chiles and cooking advice, and you get to go home armed with peppers and a plan.
"We roast the peppers for our customers – who often buy them by the case – and they take them home and freeze them for year-round use," Harty said. "You have those customers that want Hatch chile everything. They want a burger made with Hatch peppers, topped with a Hatch pepper on a bun made with Hatch peppers."
Whether you eat them for tradition or flavor, by the case or by the bunch, Hatch pepper season won't last long. The Central Market Hatch Festival lasts through Aug. 19, and to see a complete list of events at your Central Market Southlake visit their website, www.centralmarket.com.